Recently, a video has gone viral on Tiktok along with a claim related to the recent plane crash in Nepal.
The viral video shows dead bodies and claims they are the victims of the tragic plane crash in Nepal.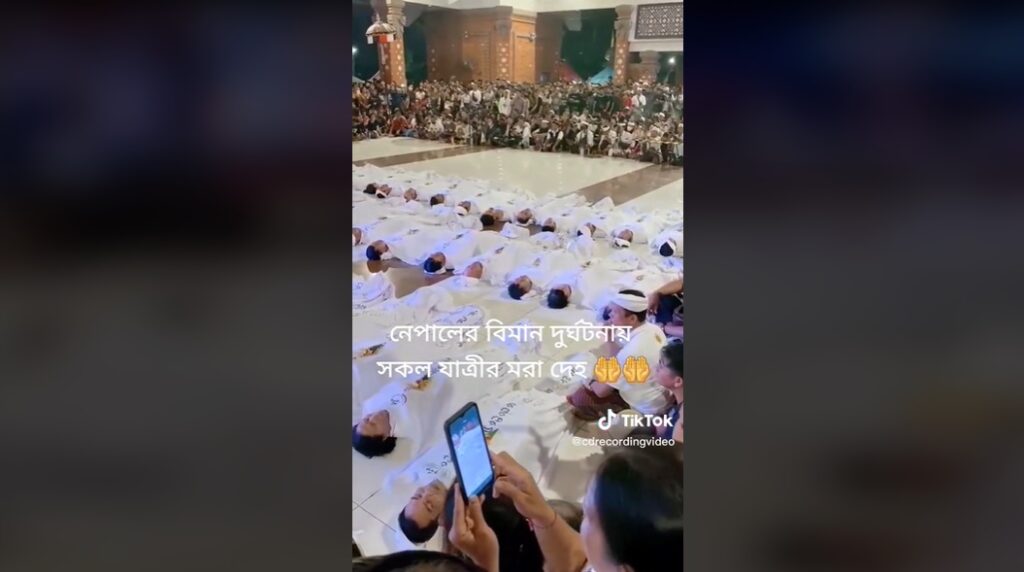 Some links to the viral video are here, here, here, here, here, and here.
Newschecker has verified that the viral claim is false.
Fact Check/ Verification
With the keyframe search, we found a video with the title "RATUSAN JAZAD SEGAR HEBOHKAN TABANAN – Calonarang 108 Watangan PECAHKAN REKOR MURI ‼️" uploaded on YouTube on October 30, 2022. The same white cloth used in the video has similarities to the viral video. And the title translates to, "Tabanan – Kalonarang 108 Watangan Muri records broken by hundreds of fresh Jazads."
The reverse image search on keyframes also led us to another video, which matched with the viral videos. On 31 October 2022, a YouTube user named Dek Ghen uploaded a video titled "108 Watangan Calonarang Mandala Suci"
Also, on 31st October 2022, photos of this festival were published on Detik News website. The Indonesian media confirmed that the images are part of a traditional festival called "Kalonarang". The caption of the photo says, "Calonarang's dramaturgy staged the play 'Katundung Ratna Manggali' involving 108 Watangans or carcasses. Hundreds of these watangans are 'sisya' or students of Pasraman Agung Mandala Suci. During the Calonarang stage, they are treated like dead people. Including wrapping using gauze or a shroud."
Read More: Shakib Al Hasan is not the new CEO of the Gulf Oil
According to Indonesian online media PotensiBadung.com, and The New York Times Calonarang is a dance-drama purification ritual from Bali' created in 1890, which is a Balinese classic.
Conclusion
Hence it is clear that an image of a traditional ritual in Bali has been falsely claimed as the victims of the Nepal plane crash.
Result: False
---
If you would like us to fact-check a claim, give feedback, or lodge a complaint, email us at checkthis@newschecker.in. You can also visit the Contact Us page and fill out the form.