As heavy rains left at least fifty killed and affected over a million people in Bangladesh and India, several social media users are sharing videos of chaos and devastation, linking it to the recent spell of rains. In this context, a video showing a bridge being swept away in the flood water is being widely shared on the video sharing platform TikTok, claiming to show an incident that happened in Sylhet.
One of the viral videos, posted by user @mr.muhibrsylhet14, has received over 71K likes and 900k views.
Newschecker has found the claim to be false.
Fact Check/ Verification
To verify the authenticity of the claim we conducted a reverse image search with the keyframes extracted from the video and found a video on Australian news agency SBS News tweet on 05 April 2021.
The caption accompanying the video read "Video shows homes and bridges being swept away in Indonesia and East Timor as torrential rain brought landslides and floods to the region, leaving dozens dead."
On using this as a clue, Newschecker conducted further research, and found the video on Indonesian mainstream media Tribune News's youtube channel.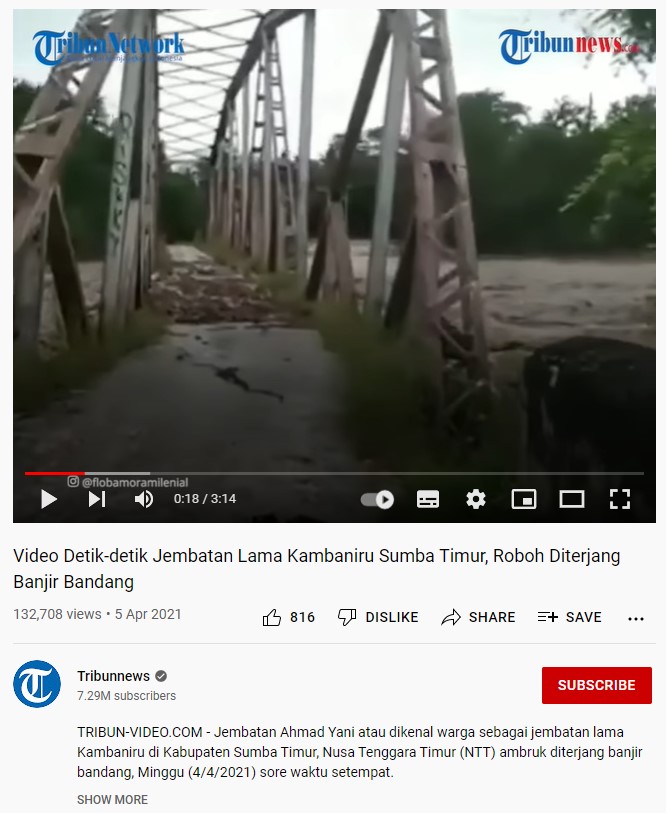 According to the article, the incident took place in Indonesia in 2021, when one of the old bridges over the Kambaniru River in the East Sumba Regency was swept away by the flooded river.
Read More: Viral Video Falsely Claims Indian Government opened Farakka Barrage Gates
The same video was also recently viral in India, claiming that the bridge being washed away was located in Assam. Newschecker Kolkata team already debunked this claim.
Conclusion
A video of an old bridge being washed away by a flooded river in Indonesia's Kambaniru River is being circulated on TikTok claiming to show a bridge being swept away in Sylhet, Bangladesh.
Result: False Context/False
---
Write to us at checkthis@newschecker.in for your feedback on any suspicious news or information or to find out the truth . You can also contact us through Contact Us – Form.