A video showing a dead body being unwrapped from its white shroud, following which several men bend down to pay their respects to the deceased by kissing the body on the forehead, is going viral on social media platform Facebook. The caption accompanying the video identifies the deceased as a Quran Hafiz (who has completely memorised the Quran), whose remains have been found intact after 10 years of burial.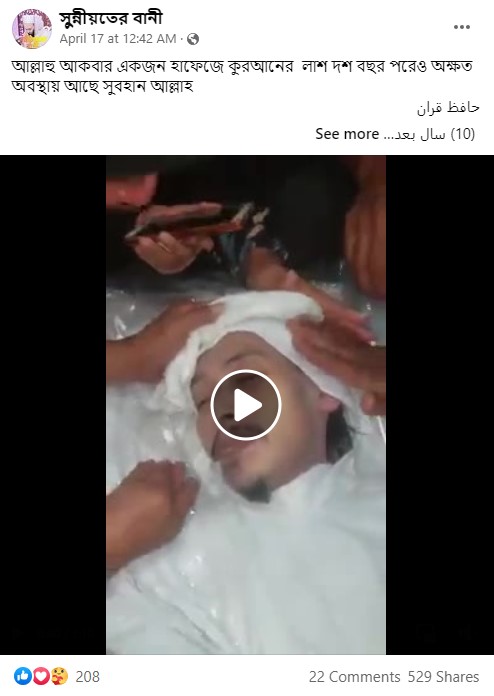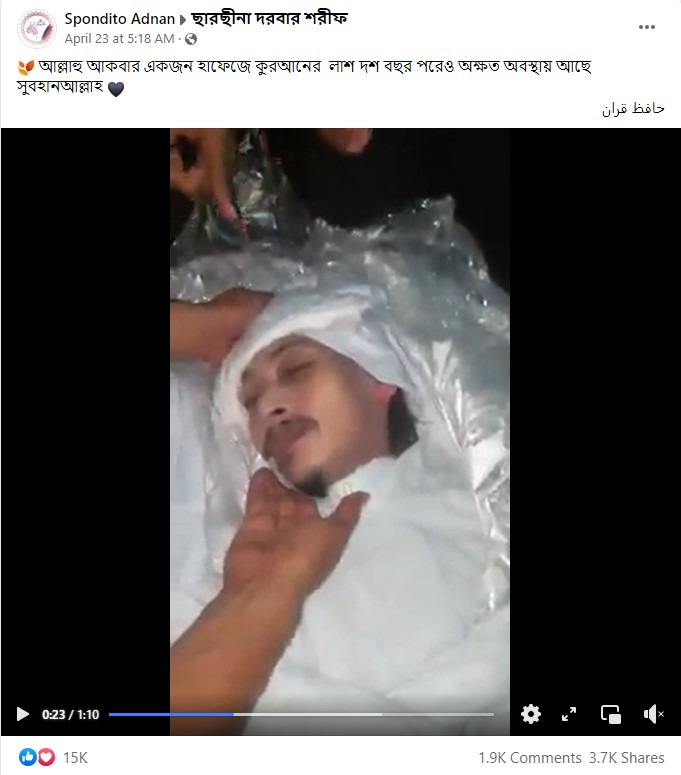 Check out some of those videos here , here and here .
সুন্নীয়তের বানী was among the several users who shared the video claiming to show the remains of a Quran Hafiz, who was buried ten years ago. This viral video has received about 15,000 likes and more than 3,500 shares.
Fact Check / Verification
To verify the authenticity of the claim we conducted a reverse image search on the keyframes extracted from the viral video and found a report published in the Indonesian mainstream media 'Detik' on 23 July 2018 titled "Hoax Video of Imam Samudra's Body, Police: That's Napiter Yaser Bin Thamrin" (Translated).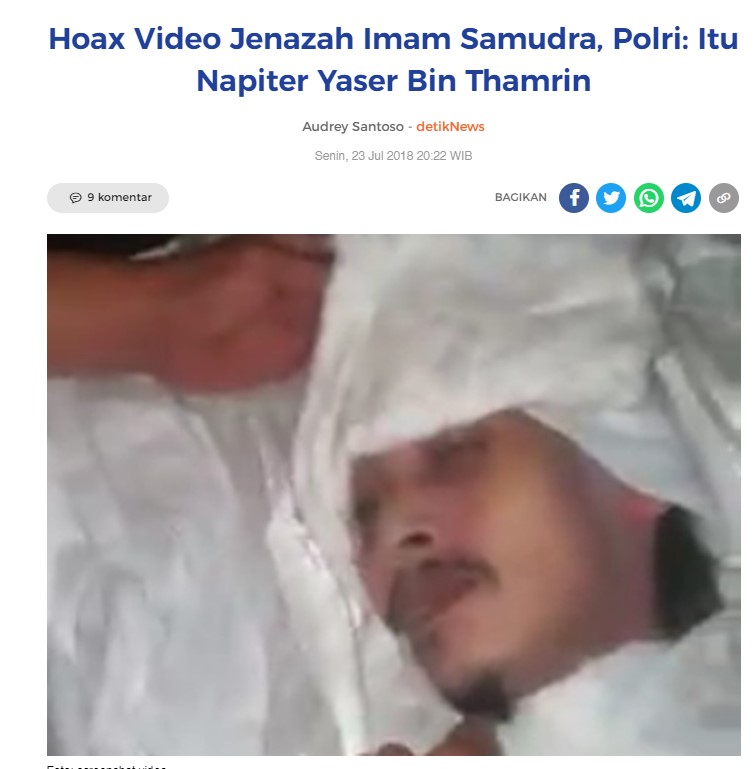 According to the report, the dead body seen in the video belonged to one Yaser bin Thamrin who was arrested and jailed in 2017 for shooting a police officer in Gunung Sindur, Rutan, Indonesia. Yaser fell ill during his imprisonment on July 17, 2018, and was admitted to South Tangerang Regional Hospital where he succumbed to his illness. 
Read More: No, This Girl Did Not Turn Into Fox For Insulting Holy Quran, Viral Video Is False
On further research, we also found another report published in another Indonesian media outlet Republika which noted that the same video had earlier gone viral on social media claiming to show 'Imam Samudra, who was sentenced to death for Bali bombing in 2002'. The video was also fact-checked by Indonesian fact checking outlet Kompas.
Conclusion
A video of the body of an Indonesian man who died in 2018 is being circulated on social media, claiming to show the remains of a Quran Hafiz intact after 10 years of burial.
Result: False
---
If you would like us to fact check a claim, give feedback or lodge a complaint, email us at checkthis@newschecker.in. You can also visit the Contact Us page and fill the form.