A video clip of Bangladeshi Islamic speaker Mustafiz Rahmani, claiming that the December of 2021 had five consecutive Wednesdays, Thursdays, and Fridays for the first time in 823 years, is going viral on TikTok.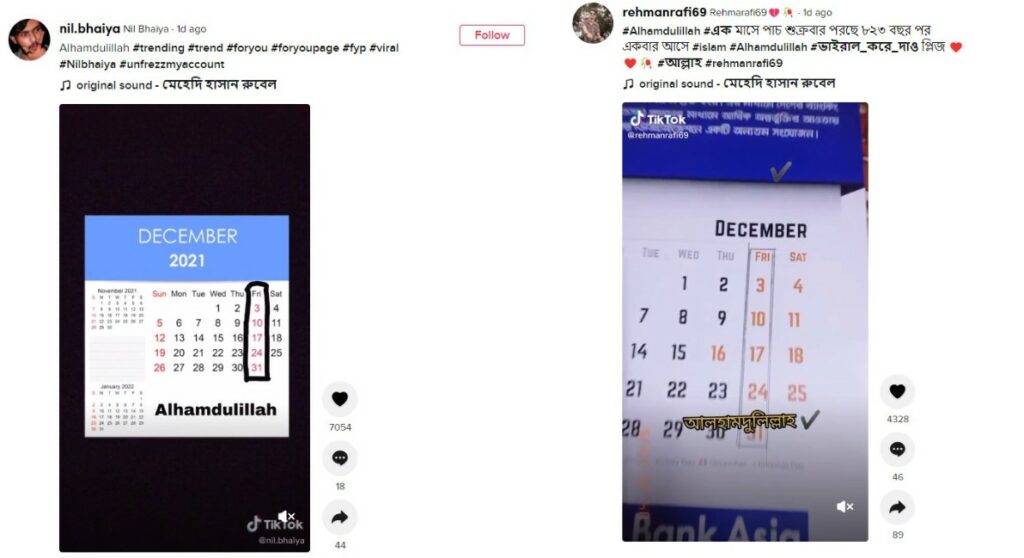 Many similar claims have also been shared on Facebook.
Fact Check / Verification
By conducting a keyword we found a report on Time and Date website titled "5 Weekends in 1 Month Happens More Often Than Every 823 Years" which showed evidence of more than five such repetitions in the same year.
To verify the claim further, we checked a calendar that showed that there are five Wednesdays, five Thursdays, and five Fridays in March 2023, May 2024, January-October 2025, and July 2026.

In addition, such incidents occurred twice in January and July 2020. So such incidents happen more than once in the same year.
Read More: Image Of Placard From Students Protest Edited And Shared With False Claim
It is to be noted that such rumors have been circulating on the internet since 2010 and at that time the US fact-checking site Snopes published a report on this.
Conclusion
Five Wednesdays, five Thursdays, five Fridays occur more frequently than 823 years and the viral claim is not true. .
Result – Partly False
Our Sources
Time and Date: https://www.timeanddate.com/calendar/823-years.html
Snopes: https://www.snopes.com/fact-check/money-bags/
---
If you would like us to fact check a claim, give feedback or lodge a complaint, email us at checkthis@newschecker.in. You can also visit the Contact Us page and fill the form.