Several social media users in Bangladesh are sharing a video titled "The United States at risk of civil war in Bangladesh", which shows a US senate committee discussing the situation in Bangladesh. The video shows a discussion in the senate committee on the 'political crisis' in Bangladesh, increasing violence, attacks on minorities and the rise of terrorism.
The video was uploaded on 22 January and has received 552k views and 16k reactions on Facebook within 5 days. View the archive version of the posts here and here. Newschecker has found the post to be misleading and the video to be at least 8 years old.
Fact Check / Verification
On conducting a reverse image search of the key-frames generated from the viral video, Newschecker found a video posted by the House Foreign Affairs Committee Republicans on their YouTube channel in November 2013, with the title "Subcommittee Hearing: Bangladesh in Turmoil: A Nation on the Brink?" .
On watching the video closely, Newschecker found that the same people, the Chairman of the Congressional Foreign Affairs Subcommittee Steve Chabot and John Sifton, Asia advocacy director, Human Rights Watch were seen in both videos. Further analyses of the video showed that the viral video was taken from the two hour long video, from the time stamps –1:29:54 to 1:31:06.  
On researching further, Newschecker found several media reports from November 20, 2013, that reported on the hearing of the subcommittee on foreign affairs of the lower house of the US Congress in the context of the then political instability in Bangladesh. After the hearing, HT Imam, the then adviser to the Prime Minister of Bangladesh, said that the Bangladesh government would try to present their case after gathering more details on the hearing.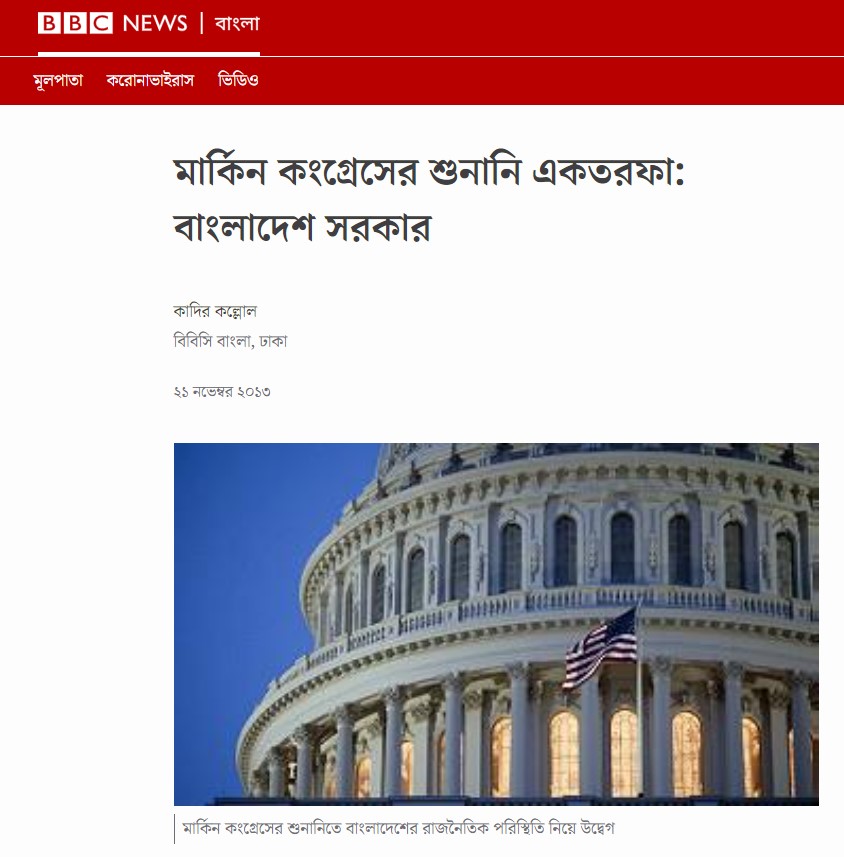 GovInfo, a US government website, also carried an article on the same hearing on November 20, 2013, titled 'Bangladesh In Turmoil: A Nation On The Brink'.
Read More: #FundraiserScam Genuine image of a sick Indian child used to promote fake claims to seek donations in Bangladesh
Conclusion
An 8-year-old video of a US congressional hearing on the political instability in Bangladesh has recently been circulating on Facebook with the claim that the US was discussing the risk of civil war in Bangladesh.
Result – Misleading
Our Sources
House Foreign Affairs Committee Republicans YouTube Channel: https://www.youtube.com/watch?v=HTvkG-G-SI4
BBC News: https://www.bbc.com/bengali/news/2013/11/131121_mrk_us_congress_bangladesh_government_reaction
Govt Info: https://www.govinfo.gov/content/pkg/CHRG-113hhrg85642/html/CHRG-113hhrg85642.htm
---
If you would like us to fact check a claim, give feedback or lodge a complaint, email us at checkthis@newschecker.in. You can also visit the Contact Us page and fill the form.