A post to raise funds to help a sick child, allegedly suffering from cancer, is going viral on social media in Bangladesh. Several users shared the post seeking contribution from altruistic friends for the child, identified in the post as 3 year old Md Sabuj. Newschecker has found the post to be incorrect, as the child in the post is from India and not Bangladesh.
The viral post claims that the young boy in the photo is the son of Jahrul Islam , an auto driver, belonging to Abaipur Union of Shailkupa sub-district of Jhenaidah district and asks for donations claiming that the family is poor and doesn't have the money to treat their son. The post goes on to say that the entire treatment will cost 2 Lakh 50 thousand taka and that around 1 lakh taka had already been arranged through relatives.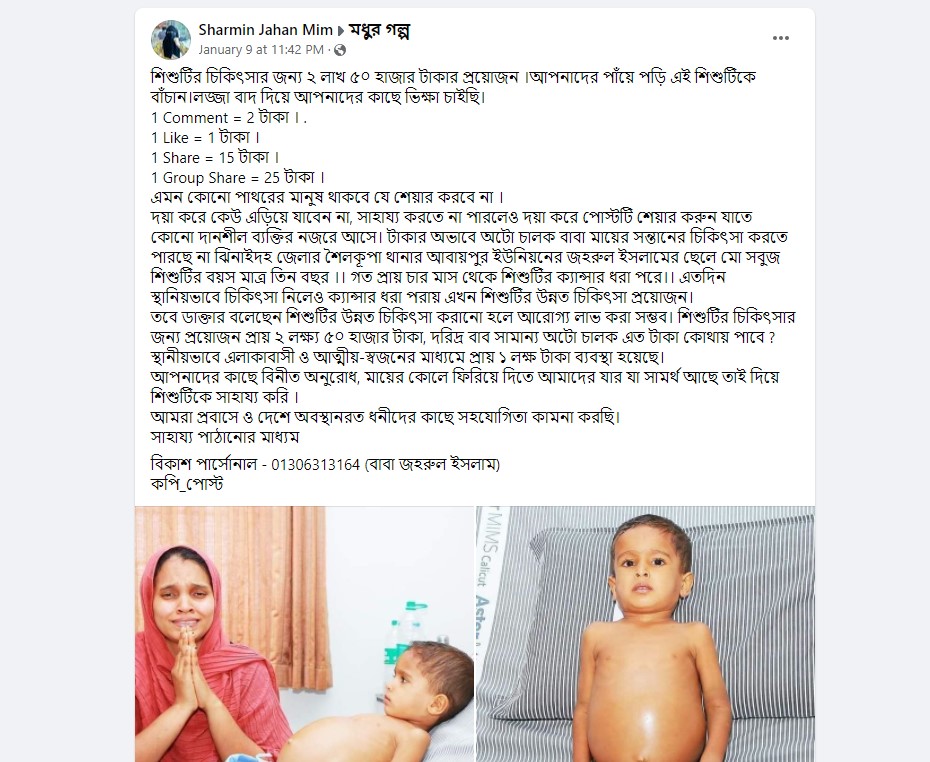 Among the many users who shared the fundraiser on Facebook was user who goes by the name Sharmin Jahan Mim, whose post garnered 889 likes and 555 shares. Several other users also shared the post on Facebook. See those post here and here.
Fact Check / Verification
In order to check the authenticity of the claim, Newschecker conducted a reverse image search of the images in the online post and traced them to Ketto, a crowdfunding platform, titled "Ya Allah! Only Treatment Worth 60 Lakhs Can Save My Son From Cancer. Help".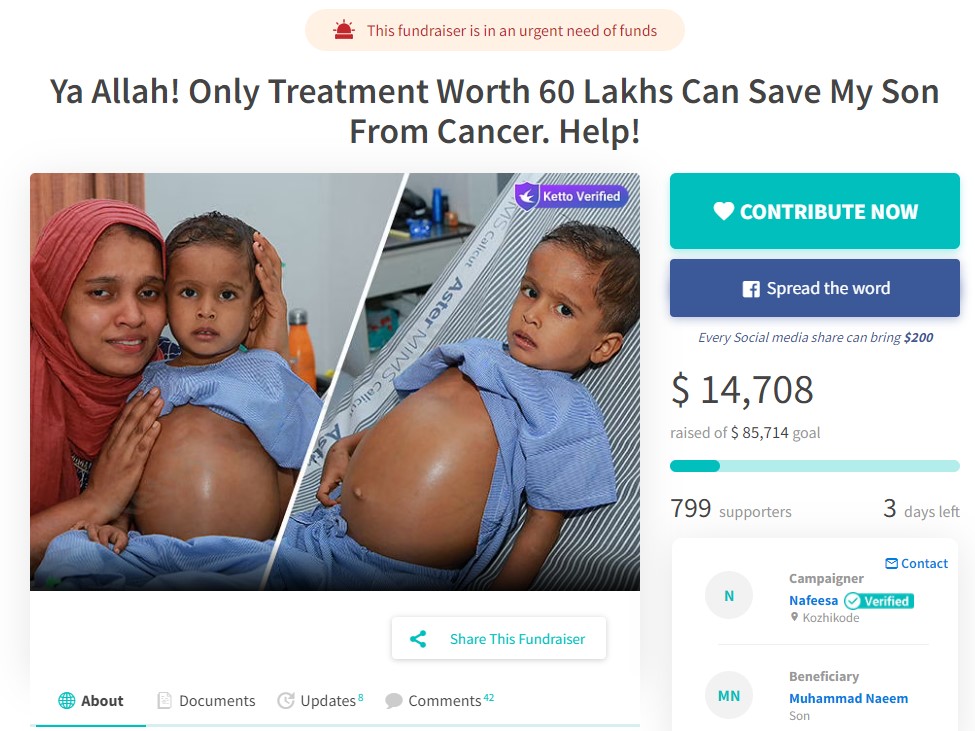 Newschecker also found a tweet published on October 14, 2021 on Ketto's official Twitter account, calling for contributions for the same child's treatment.
The fundraiser on Ketto identifies the child as Master Mohammed Naeem, who suffers from a type of blood cancer called Juvenile Myelomonocytic Leukemia (JMML) . A prescription issued on the letterhead of Aster MIMS, Kozhikode by one Dr. Kesavan M.R has also been provided as a supporting document.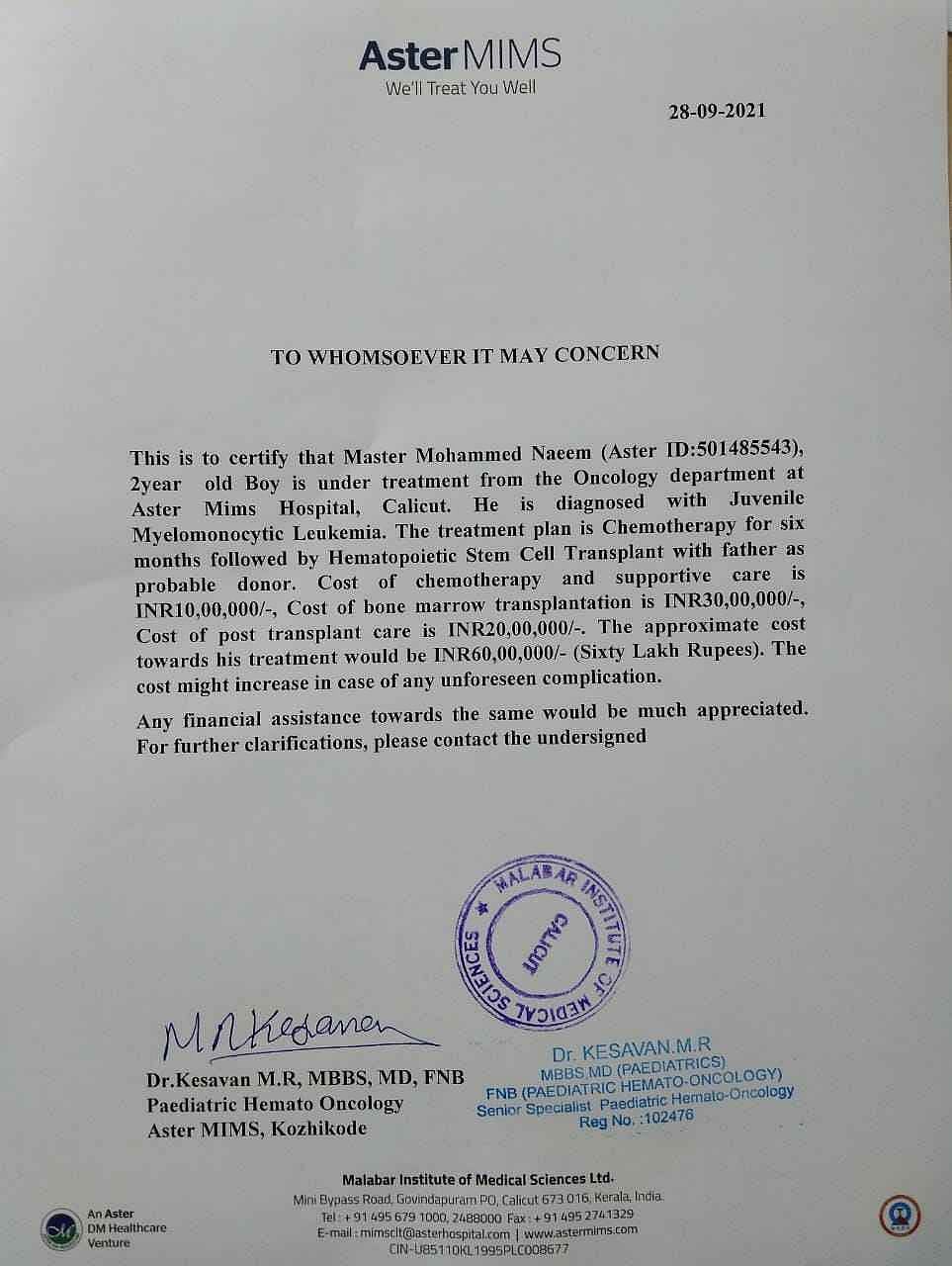 Newschecker tried to contact the number mentioned in the viral post (01306313164) but no one answered. The contact number is said to belong to a person called Bikash or the alleged father of Md Sabuj who the post identifies as Jahrul Islam
We reached out to Dr. Kesavan MR at Aster MIMS Hospital who confirmed to Newschecker that the patient, Master Md Naeem, is genuinely unwell and suffers from JMML. He said "the patient is a Keralite and has been under my care for the last four or five months. He has undergone 5 to 6 rounds of chemotherapy already and we hope to begin the transplant (bone marrow) next month."
Read More: News of Monirul Islam becoming BCS cadre from carpenter is 4 years old
However, it could not be ascertained whether any child in Bangladesh going by name Md Sabuj was sick or in need of financial help.
Conclusion
Viral fundraiser post seeking donations to treat a Bangladeshi child suffering from cancer is false and actually carries genuine images from a fundraiser posted online in October 2021 for an Indian child suffering from cancer.
Result – Imposter content | False Content
Our Sources
Ketto: https://www.ketto.org/fundraiser/savenaeem
Ketto Tweet: https://twitter.com/ketto/status/1448642975660056589
---
If you would like us to fact check a claim, give feedback or lodge a complaint, email us at checkthis@newschecker.in. You can also visit the Contact Us page and fill the form.