Recently, a post on social media Facebook claimed that Saudi footballer Yasser Al-Shahrani has died. On November 22, the claim of his death spread with a photo of Yasir, who was injured in the World Cup football match between Argentina and Saudi Arabia.
The posts claimed, "Inna lillahi wa inna ilayhi raji'un, during the Saudi Arab vs Argentina match.. Brother Yasser, who was hit by a Saudi goalkeeper, left the country this afternoon and died in a hospital in Germany. May Allah grant him Jannat."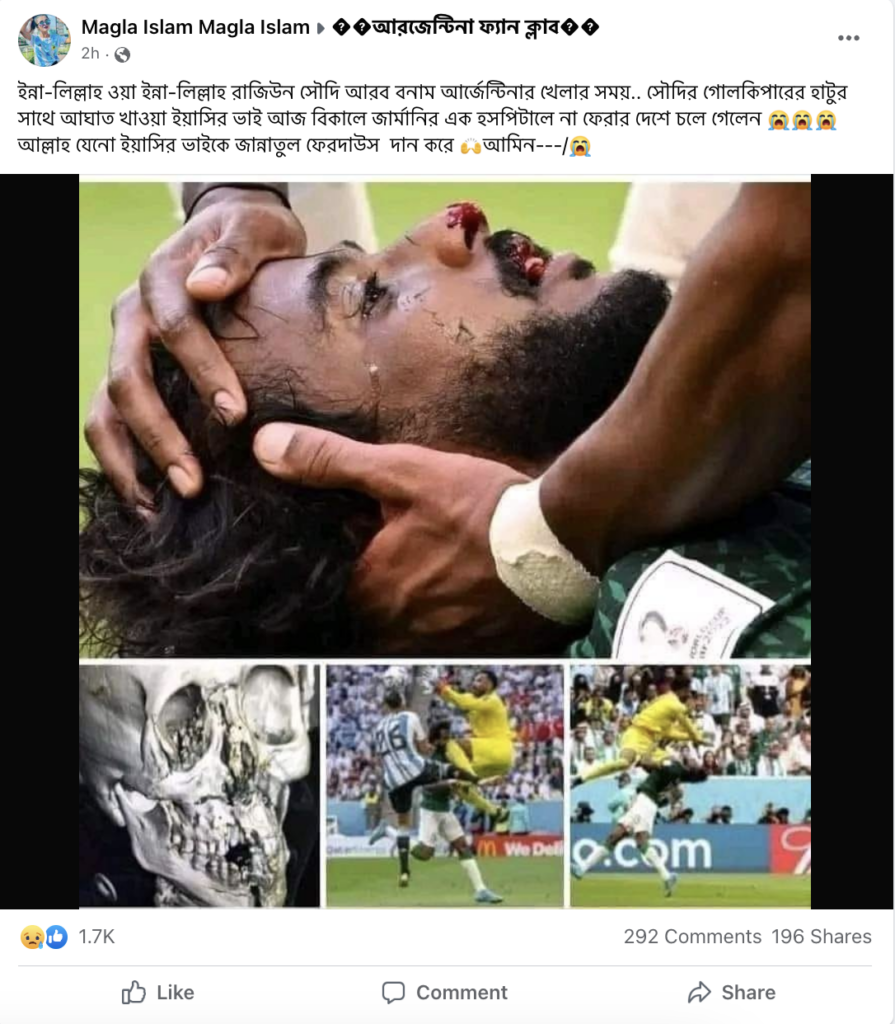 Some of these posts are here, here, and here.
Newschecker verified and found that the claim is false.
Fact-Check/ Verification
With the key-word "Yasser Al-Shahrani" search on Google, we found a report published on November 23 in the international news agency Reuters titled "Saudi's Al-Shahrani Undergoes Surgery, Doubtful for Rest of the World Cup". According to the report, Yasser Al-Shahrani underwent a successful surgery on the pancreatic gland at the National Guard Hospital in Riyadh.
In addition, another report published in Al Jazeera quoted the Saudi Arabian Football Federation as saying that Al-Shahrani suffered severe injuries to the head, chest, and abdomen. All necessary medical tests have been done on him but he will be kept under observation. His condition has also been confirmed to be stable.
Yasir's video message was later published on the official Twitter account of the Saudi Arabia National Football Team where the defender was seen giving a public video message.
Conclusion
The news of the death of Saudi Arabia defender Yasser Al-Shahrani has been claimed on Facebook, is false. And till the time of writing this article, he is being treated in Riyadh, not Germany. 
Result: False
---
If you would like us to fact-check a claim, give feedback, or lodge a complaint, email us at checkthis@newschecker.in. You can also visit the Contact Us page and fill out the form.