A viral social media post, claiming that Bangladesh's Education Minister Dipu Moni made a statement mandating namaz for Muslim students in all educational institutions, is being widely shared on Facebook. Newschecker has verified this claim and found it to be false.
Several users shared the same claim on social media, and one of the posts, shared by one Israt Urmii on February 16, gathered 3.3K reactions and 91 shares.
Fact Check / Verification
A keyword search on Facebook led us to a Facebook post on 05 February 2019, published with the same caption. We also found several other posts published at that time, with similar captions.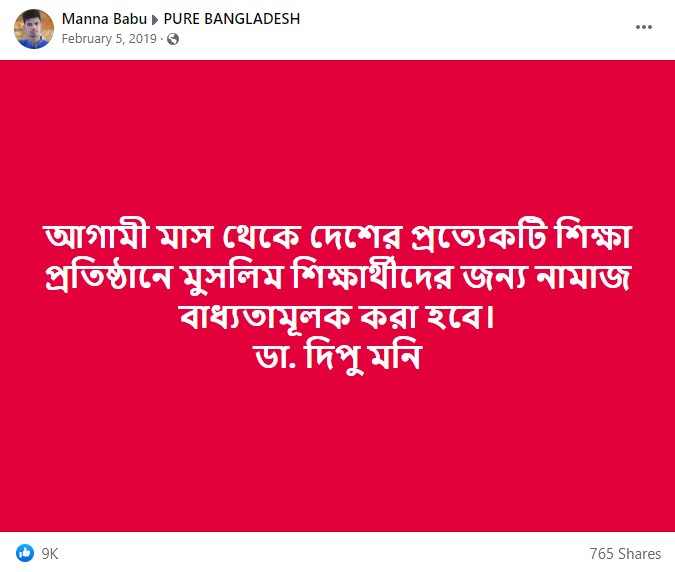 On further research, we found a post by Deputy Minister of Education, Mohibul Hasan Chowdhury on his Facebook page, published on 05 February 2019, where he clarified that the viral posts were nothing but rumours, and that the Minister of Education Dipu Moni has not issued any order regarding such an obligation.
We also found a report on an education and youth focused news portal "The Daily Campus", published on 06 February 2019, regarding the deputy minister of education Mohibul Hasan Chowdhury's statement on Facebook.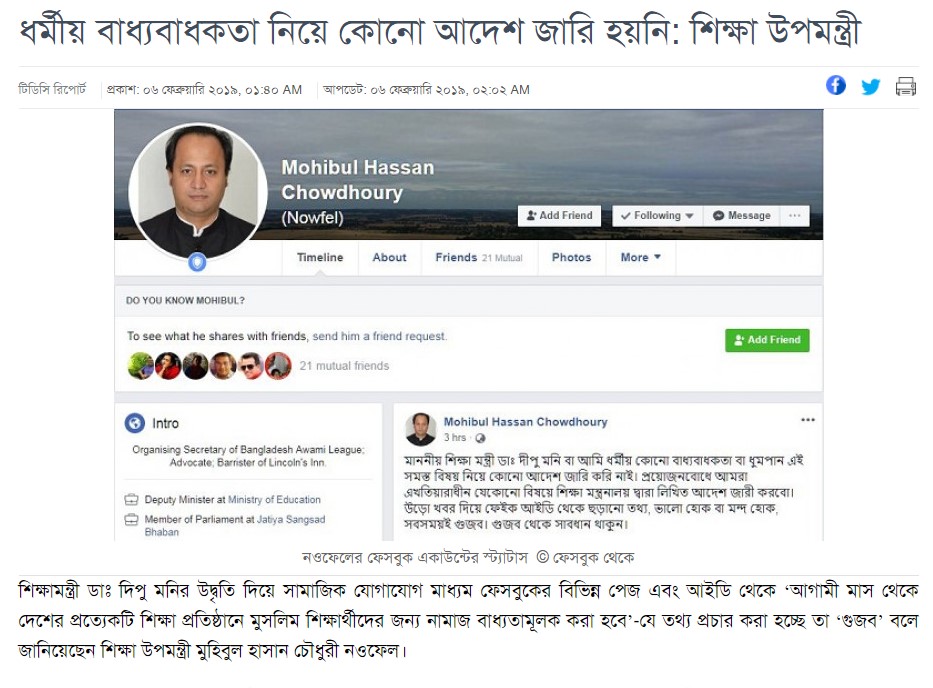 Read More: No, Saudi Arabia Is not Changing Its National Flag
Conclusion
Rumours of compulsory namaz for Muslim students in all educational institutions, attributed to the education minister, is an old false claim from 2019, that has once again resurfaced on social media.
Result – False
Our Sources
Mohibul Hasan Chowdhury Nawfel: https://www.facebook.com/nowfel.chowdhury/posts/10101253603984731
The Daily Campus: https://thedailycampus.com/education-ministry/18241/%E0%A6%A7%E0%A6%B0%E0%A7%8D%E0%A6%AE%E0%A7%80%E0%A7%9F-%E0%A6%AC%E0%A6%BE%E0%A6%A7%E0%A7%8D%E0%A6%AF%E0%A6%AC%E0%A6%BE%E0%A6%A7%E0%A6%95%E0%A6%A4%E0%A6%BE-%E0%A6%A8%E0%A6%BF%E0%A7%9F%E0%A7%87-%E0%A6%95%E0
If you would like us to fact check a claim, give feedback or lodge a complaint, email us at checkthis@newschecker.in. You can also visit the Contact Us page and fill the form.