Following the June 4 blast at the BM Container Depot in Sitakunda, Chittagong, that killed 49 people and injured 300 others, a message warning about possible acid rain is being widely shared on social media. Newschecker looked into the claim to analyse if there was a possibility of acid rain due to the blast and found no evidence to back up the viral claim.
According to the fire service chief Brigadier General Main Uddin, the B.M Container Depot in Sitakunda, stockpiled a chemical named hydrogen peroxide (H2O2) on June 5.
The following day, two different Tiktok videos, quoting the Dhaka Metropolitan Police (DMP) Director, warned users of the possibility of acid rain.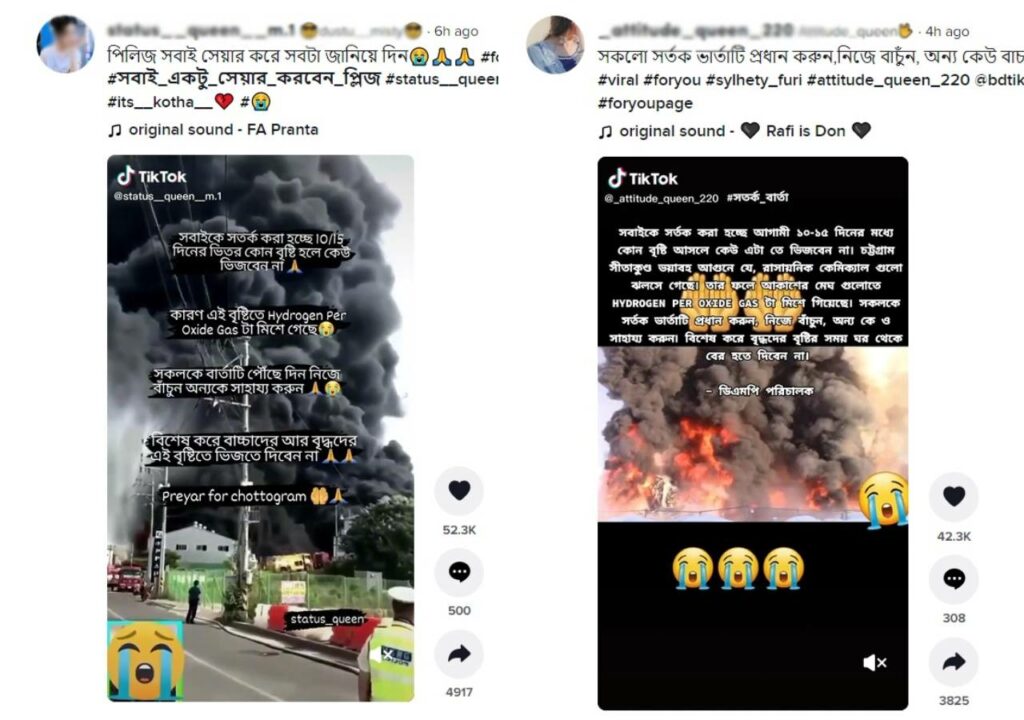 On running a CrowdTangle search for the keywords "there is a possibility of acid rain, DMP director" in Bangla, we found that the first post of the claim was made by Chittagong University News – From the Facebook page of Chittagong University News.
Most shared posts are from two pages: National University, and Creativeনির্বাহী ম্যাজিস্ট্রেট সারোয়ার আলম সমর্থকCreative jogot.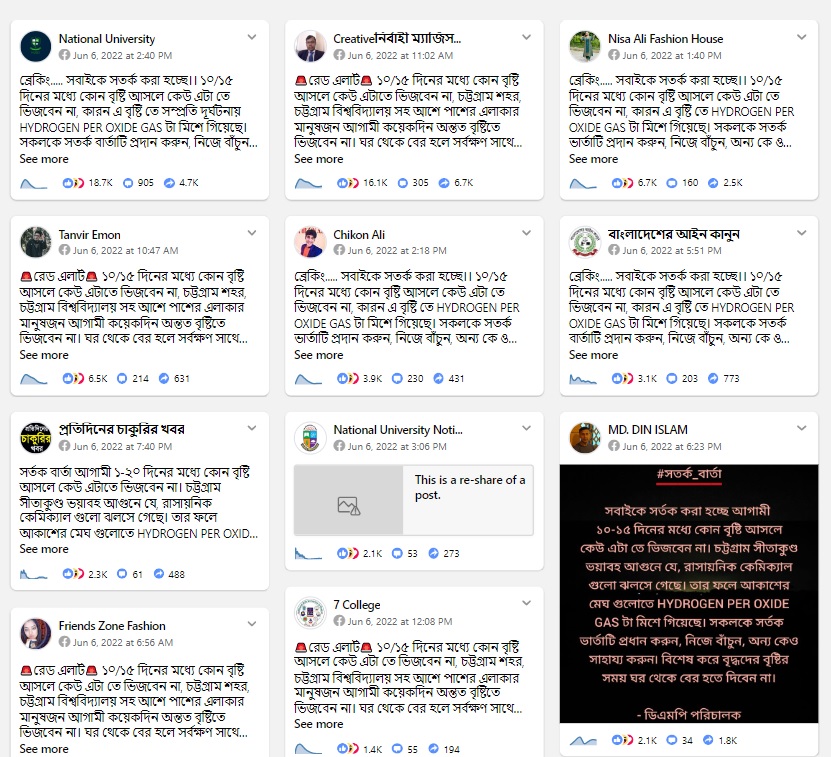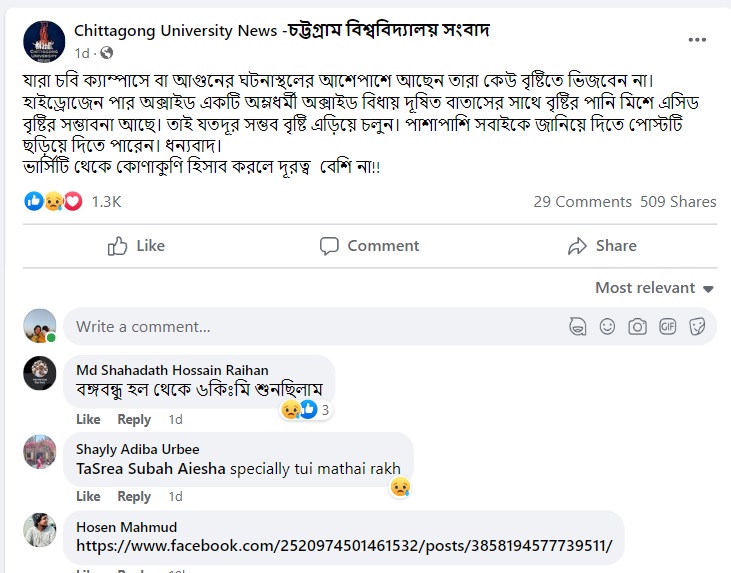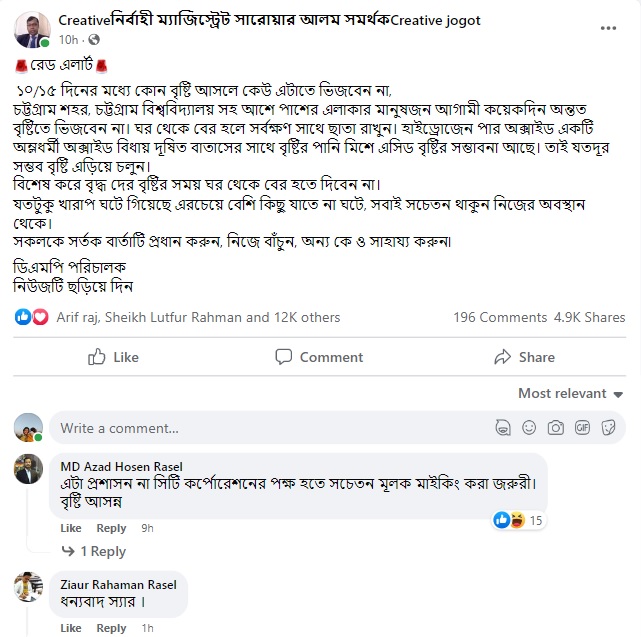 Youtube Link: https://www.youtube.com/watch?v=XQgURQjUJ7k&t=42s
What was behind the Sitakunda blast?
The reason for the blast is still unknown. According to a Prothom Alo report, the matter is CID is investigating, and have collected all kinds of samples from burnt ash to factory supplied water as evidence, and looking for the cause of the fire. The report also mentioned that CID is trying to figure out how things started, whether it is an accident or sabotage, they are working with the overall issue in mind.
Fact Check/ Verification
To find out if the DMP did issue such a warning, Newschecker conducted a keyword search, but found no such report.s Further, Newschecker contacted DMP's media and public relations department, who revealed to Newschecker that, "There is no director's posting in the DMP, and no such instruction has been given by the DMP."
Newschecker further decided to find out if there was a possibility of acid rain due to the explosion.
Read More: No, Viral Image Of Blaze Not from Sitakunda Depot Blast
What causes acid rain?
According to National Geographic, decaying vegetation and volcanic eruptions emit some chemicals that can cause acid rain, but most acid rain is man-made. When humans burn fossil fuels, sulphur dioxide (SO2) and nitrogen oxides (NOx) are released into the atmosphere. These pollutants react with water, oxygen, and other substances to form airborne sulfuric and nitric acids.
Does hydrogen peroxide cause acid rain?
Hydrogen peroxide is a chemical compound. According to the US Centre for Disease Control and Prevention (CDC), hydrogen peroxide is a colourless liquid in its pure state. But when heated, hydrogen peroxide acts as an explosive in thermal decomposition.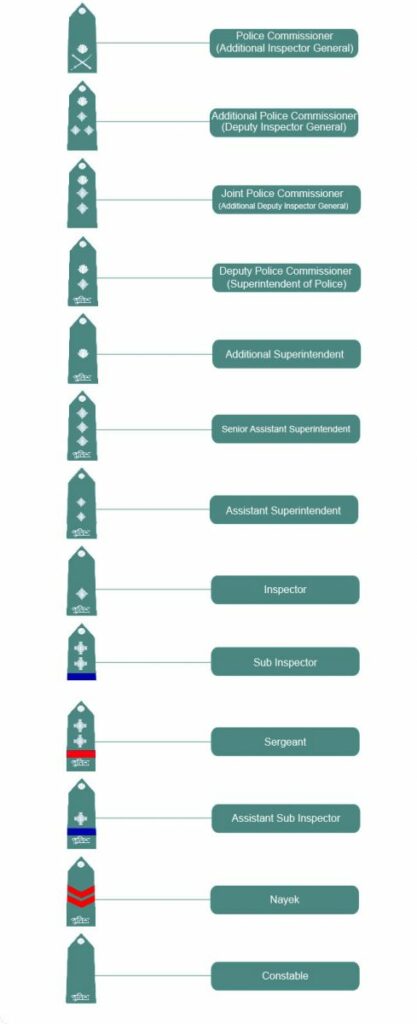 But what role does it have in causing acid rain? Not much, reveals Chemistry Professor of Dhaka University GM Golzar Hossain. Speaking to Newschecker, Hossain said, "Hydrogen peroxide is basically decomposed to form oxygen, and when decomposed, the oxygen mixes with the air. That is, it has no chance of merging with the clouds. Hydrogen peroxide does not cause acid rain. Even if there is no hydrogen peroxide (blast), there will be acid rain."
In an interview with NewsBangla, Mohammad Shah Alam, a former director of the Meteorological Department and a meteorologist, said: The colour of rainwater can be seen in red. This acid causes very little damage in the rain. And it is in the industrial area. Even if such acid rain falls in our country, it will not be due to the hydrogen peroxide in the Sitakunda container. That is a misconception."
Conclusion
Newschecker investigation has found that the recent Hydrogen peroxide explosion in Sitakunda cannot cause acid rain, and the claim of DMP director warning of acid rain is false.
Result: False
Our Sources
The National Institute for Occupational Safety and Health (NIOSH) post about the chemical by U.S. Department of Health & Human Services
Educational Video by the National Geography
News article published by Newsbangla
Primary interview: Chemistry Professor of Dhaka University GM Golzar Hossain
Article by BBC
Post by DMP