Recently, a video of Tollywood actress Aindrila Sharma and her boyfriend Sabyasachi went viral after the death of this young actress. The viral Facebook post claimed this is the video of Sabyasachi putting vermilion and garland on late Aindrila's forehead after her death due to cancer.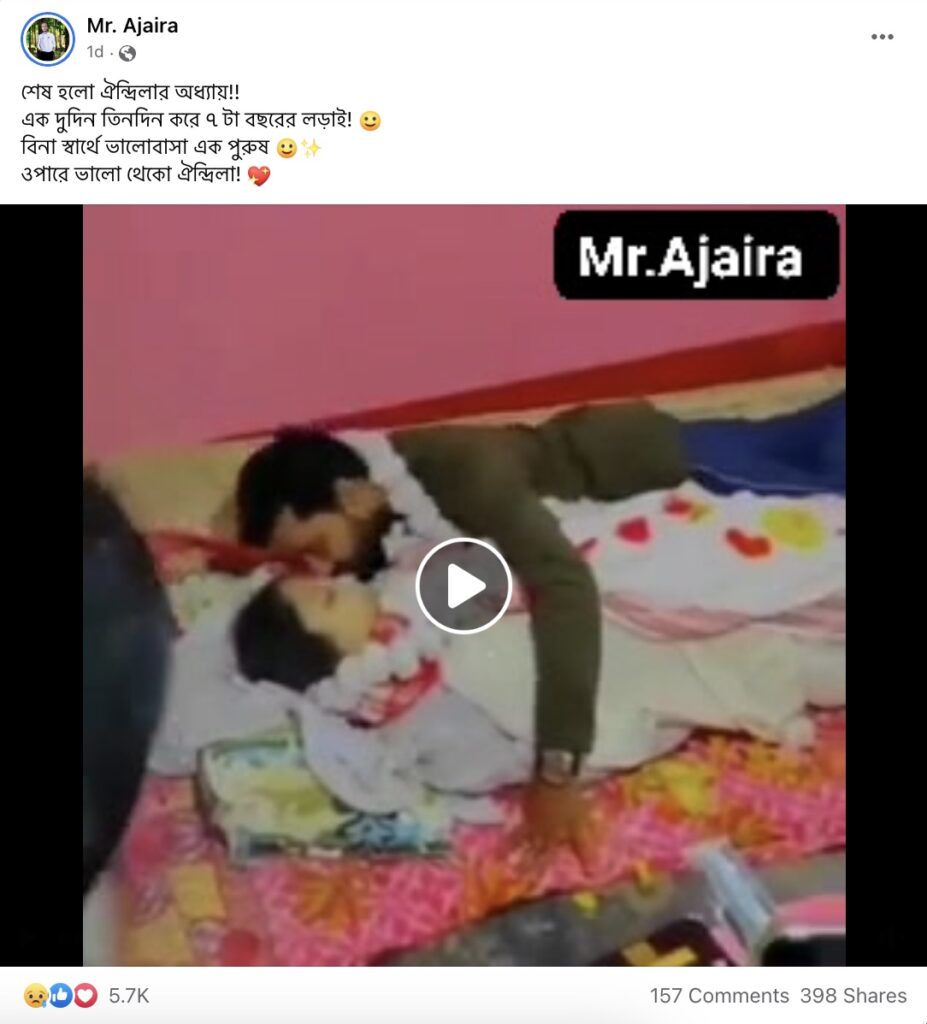 See some of the posts that have been published here, and here.
Newschecker verified the claim as false.
Fact-Check/Verification
With the help of a reverse image search on keyframes obtained from the video, we found the original video report aired on November 19 by Pratidin Time, an Indian Assamese media, titled "Vitopan bids farewell to her dead beloved Prarthana by putting vermillion on her forehead (বিতোপনে সেন্দুৰ পিন্ধাই মৃত প্রেয়সী প্রার্থনাক দিলে অন্তিম বিদায়)".
Translating the title of the video from the Assamese language to Bengali, we found that the names of the lovers in the video are Vitopan and Prathana, and Vitopan farewells her by putting vermilion after Prathana's death.
Also, another online media outlet in India, Arunachal News Live, published the same video on November 19.
The video's title said that last Friday the lover died after battling illness. After the death, lover Vitopan Tamuli sits beside the dead body of Prathanna and puts vermilion on her forehead and garlands around her neck.
The 24-year-old Tollywood actress Aindrila Sharma passed away on November 20 at a private hospital in Howrah after suffering from multiple cardiac arrests. She was a cancer survivor. Before her death, she made a comeback to acting after she was declared cancer-free by defeating the disease twice.
Conclusion
After the death of Aindrila Sharma, the video that went viral on Facebook claiming that her boyfriend Sabyasachi put vermilion and garland on Aindrila's forehead is not theirs. The viral video shows a couple named Vitopan and Prathran from Assam, India.
Result: False
---
If you would like us to fact-check a claim, give feedback, or lodge a complaint, email us at checkthis@newschecker.in. You can also visit the Contact Us page and fill out the form.