What is a 'virus shut out necklace'? How does it work? Can it protect you from Coronavirus? Recent trends indicate that the product is being marketed in Bangladesh through social media – Facebook, Tiktok, Youtube and multiple online shopping websites. The product is priced between TK 200 to TK 350 and one can place the order by contacting through mobile numbers.
Recently a Tiktok video claims, "Those who could not get the coronavirus vaccine can use this 'virus shut out' necklace to protect themselves against coronavirus infection." So how true is this claim? Newschecker decided to find out.
The Tiktok video has been viewed more than 41,000 times on the ticket alone, till the last week of October. The video claims, In this video, without any scientific evidence, and claimed that even if one is not vaccinated, using only this virus-resistant necklace will provide complete protection from the coronavirus.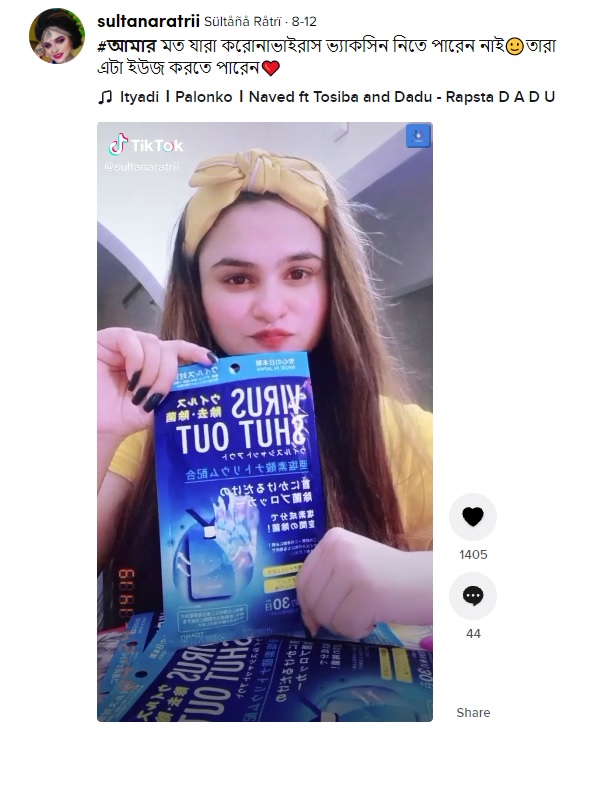 Similar videos can be found on YouTube too, also has videos in a variety of languages, ​​- including product reviews, do's and don'ts, how to use, and 'product use' warning information.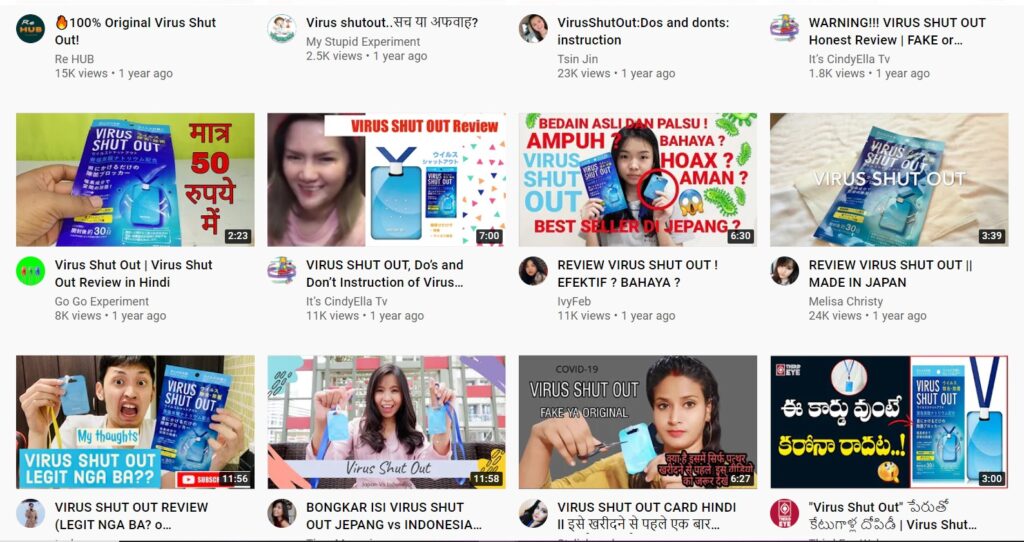 In India, this product is also being sold on Amazon.
Fact Check/Verification
According to various shopping pages and public groups on Facebook (Easy Shopping CTG, AJ Exclusive Point, Mask BD, আসেন ব্যবসা করি, মানসম্মত মেডিকেল ও হসপিটাল সামগ্রী > ক্রয় > বিক্রয় > সরবরাহকারী, বাংলাদেশ, Bangladesh and India Import & Export Business, Bangladesh Awami online Porishod (বাংলাদেশ আওয়ামী অনলাইন পরিষদ) and popular online shopping websites (Daraz, BDstall), the coronavirus resistant necklace "virus shut out" is made in Japan. This product contains chlorine dioxide. It is further claimed that wearing this necklace around the neck prevents coronavirus from entering a three feet radius around the user.
The "Virus Shut Out" necklace can be used within 2 years from the date of manufacture after wrapping, and after opening the packaging, it expires in 30 days, add the posts online.
Professor Dr Robed Amin, Spokesperson, Directorate General of Health Services (DGHS) under the Ministry of Health and Family Welfare in Bangladesh told Newscheckerthat he did not know of any such products that would prevent coronavirus infection. "There is no scientific evidence or explanation for this. So, how does this product protect people?"
On April 20 last year, a public post on the Facebook verified page of the Bangladesh Police published that a businessman named Tipu Sultan was arrested for selling coronavirus-resistant necklace and was later fined Tk 100,000 under Section 44 of the Consumer Rights Act Bangladesh.
According to the same post of Bangladesh Police, this product imported from China to Bangladesh through DHL has already been banned in Hong Kong, China, Vietnam, USA and this product was imported without the permission of the Government of Bangladesh, and this product has no role in preventing covid-19.
The US Environmental Protection Agency (EPA) has banned the sale of the virus shut down necklace in the United States. The company said in a press release on March 25 last year that the unreasonable claim of protection against the coronavirus of the virus shut down necklace is a threat to public health.
In the press release, EPA Pacific Southwest Regional Administrator John Busterud said, "It is critical that people only use EPA-registered disinfectants and follow label directions for proper use. EPA will not tolerate companies selling illegal disinfectants and making false or misleading public health claims during this pandemic crisis."
According to the US Food and Drug Administration, chlorine dioxide can also be dangerous to humans. Chlorine dioxide is a prepared gas and is used to disinfect drinks, the U.S. Department of State said in a news release on April 8 last year. However, it can cause harmful side effects when inhaled or ingested and can cause irritation to the nose, throat, and lungs.
Conclusion:
The coronavirus prevention necklace called 'virus shut out', cannot protect people from coronavirus infection.
Result: False and Misleading
Our Sources:
Tiktok video: https://www.tiktok.com/@sultanaratrii/video/6995435273043709210
Post on the Bangladesh Police Facebook Verified Page: https://www.facebook.com/dmpdhaka/posts/1823488024449431
USFDA: https://www.fda.gov/news-events/press-announcements/coronavirus-covid-19-update-fda-warns-seller-marketing-dangerous-chlorine-dioxide-products-claim
USEPA: https://www.epa.gov/newsreleases/us-epa-acts-protect-public-unregistered-virus-shut-out-product-imported-honolulu-and
Daraz: https://www.daraz.com.bd/products/disinfectant-japanese-virus-shutout-card-20-pcs-i137324562.html
BDstall: https://www.bdstall.com/details/toamit-virus-shut-out-neck-hanging-disinfection-card-52146/
Mamabd: https://www.mamabd.net/product-category/health-care/virus-shutout/
FB Page and group that sales the product:
https://www.facebook.com/groups/2566730583654800
https://www.facebook.com/AJ-Exclusive-Point-106099884397397/
https://www.facebook.com/groups/CtgBuyAndSell24/posts/2735290383242795
https://www.facebook.com/feriewalab/posts/2668140056806889
https://www.facebook.com/didar.alam.5688/posts/3623232527692921
https://www.facebook.com/groups/2478943362416285
https://www.facebook.com/groups/962813557150954/posts/2742988885800070
Product Marketing Video on Facebook: https://www.facebook.com/watch/?ref=search&v=952854011821308&external_log_id=e0ebd9a7-254d-457c-881d-005a37cc8eaf&q=%E0%A6%AD%E0%A6%BE%E0%A6%87%E0%A6%B0%E0%A6%BE%E0%A6%B8%20%E0%A6%B6%E0%A6%BE%E0%A6%9F%20%E0%A6%86%E0%A6%89%E0%A6%9F
Youtube: https://www.youtube.com/hashtag/virusshutout
Amazon: https://www.amazon.in/BEFINITIVE-Virus-Shut-Sterilization-Month/dp/B08D2HWFL6
---
If you would like us to fact check a claim, give feedback or lodge a complaint, email us at checkthis@newschecker.in. You can also visit the Contact Us page and fill the form.