A picture of a man sleeping on the floor at an airport terminal has gone viral on Facebook and TikTok claiming to show former Minister of State for Information Murad Hasan. The man can be seen wearing a sweatshirt with his face covered sleeping next to two suitcases. The photograph has been taken at what appears to be an airport terminal with some shops in the background.
Murad Hasan resigned from the post of state minister on December 6, at the behest of Prime Minister Sheikh Hasina after controvesial misogynistic remarks allegedly made by Hasan, about BNP leader Tarique Rahman's daughter Zaima Rahman and vulgar rape threats to actress Mahiya Mahi were leaked. 
It was also reported that in the days following the leak, the former minister had  secretly made attempts to flee the country and had to return to Bangladesh on December 12, after his attempts to enter Canada and the United Arab Emirates were unsuccessful.
Fact Check / Verification
In order to check the veracity of the claim, Newschecker conducted a reverse image search and found the image on a travel-based blog site called RockyTravel.net . The report published in October 2017, is titled "BEST ADVICE ABOUT WHAT TO WEAR ON LONG HAUL FLIGHT".
On closer inspection, we found the original image on the stock photo repository Shutterstock. The photograph uploaded by user Chanyanuch Wannasinlapin is captioned "Man sleeping on floor at the airport because his flight was delay". The Shutterstock website does not offer any information about location or date of when this image was originally captured.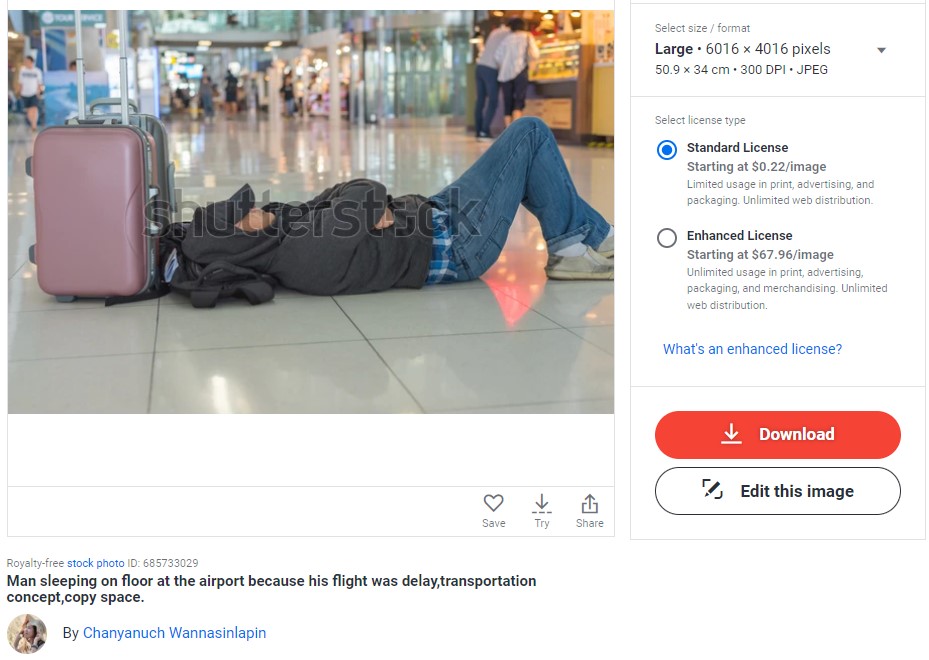 Former state minister Murad Hasan has been a controversial figure and has been the focal point of many memes and even misinformation recently following his forced resignation from the post. 
Read More: Fact Check: Is 2021 Seeing 5 Consecutive Wednesdays, Thursdays & Fridays For 1st Time In 823 Years?
Conclusion
The viral post showing a man sleeping on the floor at an airport features an old image and is being falsely shared claiming to be former state minister for information Murad Hasan.
Result – False
Our Sources
Rocky Travel: https://www.rockytravel.net/blog/what-to-wear-on-long-haul-flight/
Shutterstock: https://www.shutterstock.com/image-photo/man-sleeping-on-floor-airport-because-685733029
Prothom Alo: https://www.prothomalo.com/bangladesh/%E0%A6%A8%E0%A6%BF%E0%A6%9C%E0%A7%87%E0%A6%95%E0%A7%87-%E0%A6%86%E0%A7%9C%E0%A6%BE%E0%A6%B2-%E0%A6%95%E0%A6%B0%E0%A7%87%E0%A6%87-%E0%A6%AB%E0%A6%BF%E0%A6%B0%E0%A6%B2%E0%A7%87%E0%A6%A8-%E0%A6%AE%E0%A7%81%E0%A6%B0%E0%A6%BE%E0%A6%A6-%E0%A6%B9%E0%A6%BE%E0%A6%B8%E0%A6%BE%E0%A6%A8
---
If you would like us to fact check a claim, give feedback or lodge a complaint, email us at checkthis@newschecker.in. You can also visit the Contact Us page and fill the form.