Bangladesh launched its nationwide Covid-19 vaccination programme on February 7, and to October 4, around 34.5 million (34,525,911) people have received at least one dose of the covid vaccine, while at least 17 million (17,402,439) have been fully vaccinated with two doses.
With a daily positivity rate of 2.88% on October 6, Bangladesh remains in the high-risk category. Before the second wave of infections from April-early July, people were hesitant about taking the vaccine. However, as the death toll increased with the highest number of reported deaths touching 212 in a single day on July 9, the scenario changed and started turning up at the vaccination centres to protect themselves from getting infected. So far, 15% of the targeted 80% population (18+ age) have received the Covid-19 vaccine.
Bangladesh is currently vaccinating people with AstraZeneca, Pfizer, Sinopharm, and Moderna. On 6th October 1093 cases of adverse events following immunization (AEFI) were recorded in Bangladesh since February 2021. AEFI can be any untoward medical occurrence that follows immunization and which does not necessarily have a causal relationship with the usage of the vaccine, says WHO.
It is in this context that a TikTok video alleging that a man died after getting vaccinated for Covid-19 has gone viral in Bangladesh.
Fact Check/ Verification
The viral Tiktok video showed a man speaking in Bangla, claiming that a Pakistani national died after receiving the covid vaccine. The man in the video claims the death occurred "due to a side effect after consuming alcohol the same night, the deceased was vaccinated."
The video was uploaded by a Bangladeshi man on July 25, claiming that consumption of alcohol after getting vaccinated for Covid-19 could have "death-like side effects"
In the TikTok video, there was not enough information on how the Pakistani man fell dead after being vaccinated for drinking alcohol. However, AFP Factcheck has explained how Covid-19 vaccination misinformation spread in Pakistan through different newspaper articles.
While alcohol consumption reportedly can have side effects like stroke and heart attack, medical professionals and health specialists don't believe that they gave a connection to post-vaccine side effects. A 2013 study by scientists at Chicago's Loyola University found that "chronic alcohol abuse is correlated with increased susceptibility to infection" caused by bacteria and viruses.
Although various news outlets – The New York Times, Forbes, Times of India, published critical in-depth analysis and explanations on the matter, there is still much curiosity around alcohol consumption before or after receiving the corona vaccine.
Professor Dr Robed Amin, Spokesperson, Directorate General of Health Services (DGHS) under the Ministry of Health and Family Welfare in Bangladesh told Newschecker, "alcohol is harmful to health and there is a risk of death due to alcoholism. Excessive alcohol consumption could cause a heart attack which may lead to death. So, this death may be caused by heart attack or excessive alcohol consumption which may not have anything to do with the coronavirus vaccine."
Dr Tasnim Jara, the co-founder of Shohay, a health startup that has collaborated with the UK's National Health Service to provide reliable health information in Bangla says that experiencing "temporary side-effects after vaccination is normal" she also explains that "this is not accidental—this is by design" because they indicate that the vaccine is having the desired effect and that the "body is building protection."
Writing in the Daily Star, on concerns around Covid vaccines causing deaths, Jara makes the point that "people die every day for many illnesses other than Covid-19. We don't expect this to be any different after people get the vaccine. However, she also warned that "these deaths might be wrongly attributed as being caused by the vaccine… and may stoke fear irrationally among the general people, and the damage might be too huge to be undone."
WHO recommends that medication and alcohol should not be mixed; however, no such incidents have been reported.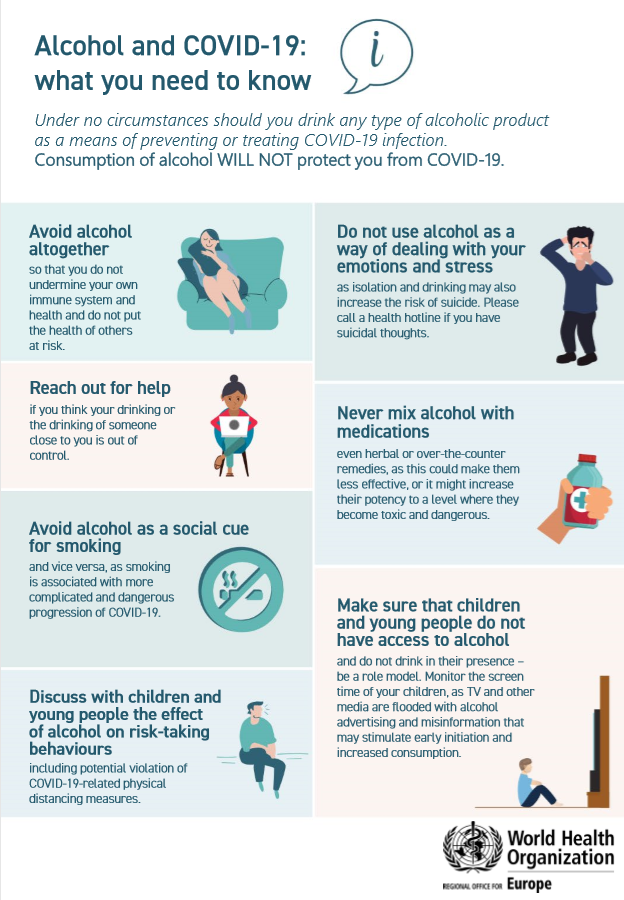 Conclusion
Newschecker's investigation found no evidence or link between the covid-19 vaccine and alcohol-related deaths. The claim made in this viral video is false and could create panic among citizens. In addition, it could also promote vaccine hesitancy.
Result: False
Our Sources
Primary interview of Professor Dr Robed Amin, Spokesperson, Directorate General of Health Services (DGHS) under the Ministry of Health and Family Welfare in Bangladesh
Forbes: https://www.forbes.com/sites/brucelee/2021/05/30/is-it-safe-to-drink-alcohol-after-getting-covid-19-vaccines/?sh=1dce1ec67473
The New York Times: https://www.nytimes.com/2021/04/27/well/eat/alcohol-covid-vaccine.html
BBC: https://www.bbc.com/bengali/news-43791518
Times of India: https://timesofindia.indiatimes.com/life-style/food-news/should-you-avoid-alcohol-after-covid-19-vaccination/photostory/82867459.cms
NCBI: https://www.ncbi.nlm.nih.gov/pmc/articles/PMC3860427/
Daily Star: https://www.thedailystar.net/health/disease/coronavirus/events-who/deaths-infections/news/21-covid-19-deaths-recorded-24-hours-positivity-rate-now-288-2192091
https://www.thedailystar.net/opinion/news/we-must-report-responsibly-vaccine-side-effects-2042689
WHO: https://www.euro.who.int/__data/assets/image/0005/438431/ALC-INF-E624.png
Tiktok: https://www.tiktok.com/@masud.pabna/video/6988730920840875291
---
If you would like us to fact check a claim, give feedback or lodge a complaint, email us at checkthis@newschecker.in. You can also visit the Contact Us page and fill the form.