A viral video claiming to show the footage of the world's largest aircraft Antonov AN-225, being destroyed in Ukraine by the onslaught of the Russian forces, is actually from the popular game GTA , Newschecker investigation has revealed. The video, that has gone viral on TikTok, shows a mammoth aircraft that seems to be an amalgamation of 10 aircrafts, attempting to land on the runway when it crashes into one of the vehicles that gave it chase, and bursts into flames.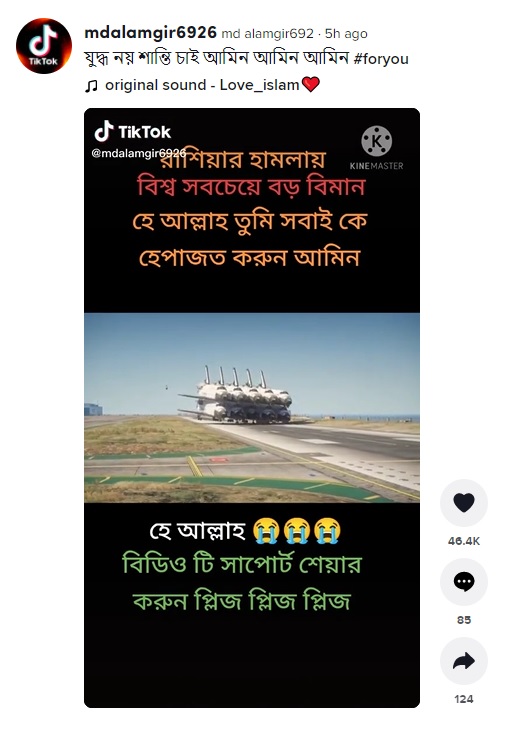 According to the Guinness World Records, the aircraft with the highest standard maximum take-off weight is the AN-225, which was built in the 1980's for transporting heavy payloads by Ukraine based Antonov Airlines.
The AN-225 was originally developed to transport the Energiya carrier-rocket and Buran space shuttle between space facilities in the former Soviet Union. It
made its first flight on December 21, 1988. In history, only one cargo plane AN-225 has been ever built that carries the record heavy weight around the globe and keep breaking it's own international records.
The AN-225 aircraft was destroyed in the Hostomel airport near Kyiv in Russia's invasion of Ukraine on February 27. According to the Ukrainian Defense Industry, Ukroboronprom said that the AN-225 was under repair at Gostomel Airport, therefore it could not manage the time to leave Ukraine.
Fact Check/ Verification: 
On closely analysing the video, it appeared to be a computer graphic simulation, similar to the style used in popular game GTA. The aircraft resembles the 'space shuttle' that is featured in GTA . Hence, on a keyword search of "Space Shuttle GTA 5" on youtube, we found that the video titled "NASA Craziest Space Shuttle Emergency Landing At Los Santos Airport | GTA 5" which was uploaded on March 3, 2021 by a channel named ANHVGTA. The post carried the disclaimer that the visuals are not real and from recordings of video games.
Newschecker also compared the shape and make of the plane seen in the viral video with the real image of the AN-225 cargo plane, and found that they do not look alike.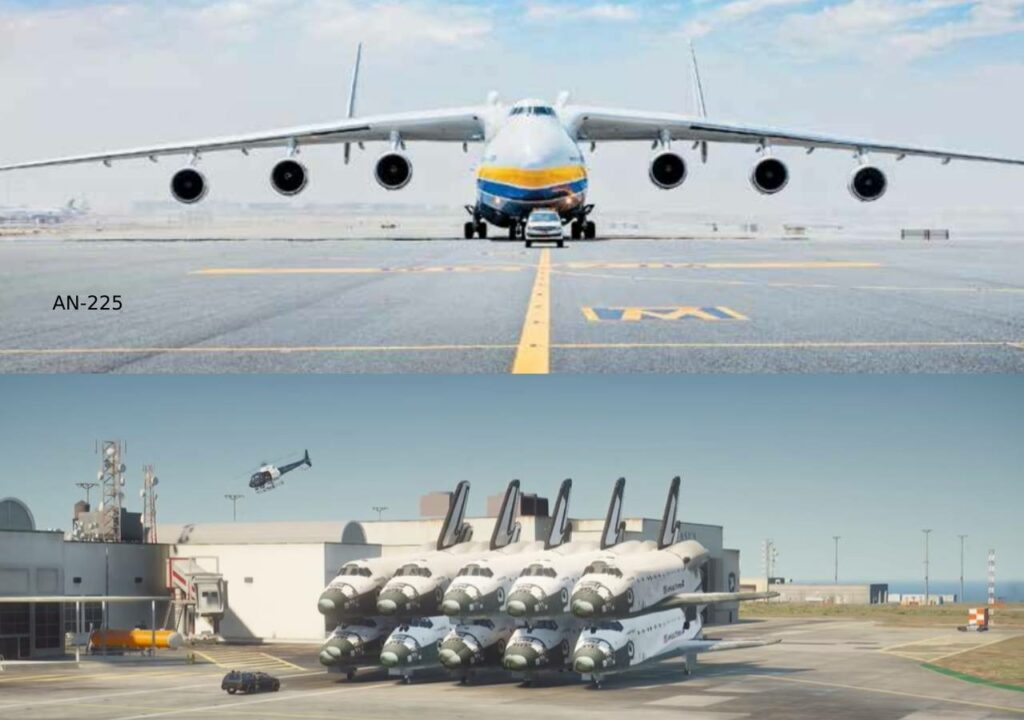 Conclusion: 
While the Antonov AN-225 has been destroyed in its hangar during the Russian invasion of Ukraine, this particular video is a gaming footage and is falsely being shared claiming to show the destruction of the AN 225.  
Read More: No, Youtube is not "shutting down" as alleged in viral Tiktok Video
Result: False
Our Sources: 
Tiktok: https://www.tiktok.com/@mdalamgir6926/video/7069957287695142171
Youtube: https://www.youtube.com/watch?v=rqZXxM7YZEc
Airline Ratings:The world's favorite aircraft, the AN-225, destroyed by Russians? – Airline Ratings
Daily Mail Online: Fears for iconic Antonov AN-225 after Ukraine claimed it was damaged by Russians on Kyiv airfield | Daily Mail Online
Guinness World Records:
https://www.guinnessworldrecords.com/world-records/largest-aircraft-by-weight-(present-day)
Wall Street Journal: https://www.wsj.com/articles/putin-thought-ukraine-would-fall-quickly-an-airport-battle-proved-him-wrong-11646343121?AID=11557093&PID=6415797&SID=bi%7C6221e5350f65d8347e5adb9f%7C16469977822167w04ha5e&subid=Business+Insider&cjevent=41a28d46a12e11ec8296b5060a180511&tier_1=affiliate&tier_2=moa&tier_3=Business+Insider&tier_4=3861930&tier_5=https%3A%2F%2Fwww.wsj.com%2Farticles%2Fputin-thought-ukraine-would-fall-quickly-an-airport-battle-proved-him-wrong-11646343121
Business Insider: https://www.businessinsider.com/video-wreckage-of-giant-plane-destroyed-in-russia-ukraine-invasion-2022-3
Ukrainian Defense Industry: https://ukroboronprom.com.ua/en/news/rosiyani-znishhili-an-225-mriya-vona-bude-vidnovlena-za-kosti-okupanta
Twitter Account of Ukraine: https://twitter.com/Ukraine/status/1497961514480902148
Forbes: https://www.forbes.com/sites/michaelgoldstein/2022/03/03/giant-antonov-an-225-another-casualty-of-russian-attack-on-ukraine/?sh=cb89c28250c0
---
If you would like us to fact check a claim, give feedback or lodge a complaint, email us at checkthis@newschecker.in. You can also visit the Contact Us page and fill the form.