A viral video, showing a huge crowd of angry protesters marching down a main thoroughfare forming human chains and raising slogans, is being shared on social media claiming to show "protests on the streets for the release of imprisoned scholars/clerics (arrested since last year) after Friday prayers".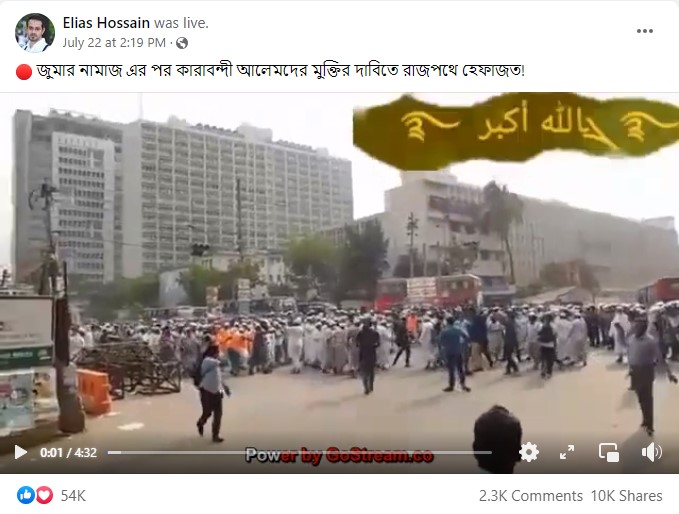 The live video was broadcast from a Facebook page named Elias Hossain and has received almost 54k likes, 2500 comments and about 10k shares. Newschecker has found that the video is old and does not show protests demanding the release of the scholars.
Who are the imprisoned Scholars/Alims?
Workers of the Hefazat Islam Bangladesh (an Islamic Advocacy group of madrassah teachers and students) clashed with police in various parts of the country in March last year over the Indian Prime Minister Narendra Modi's visit to the country. Ever since, several Hefazat leaders and activists (over 480) have been arrested in various cases of violence. Various scholars and religious leaders have since made repeated pleas to release the imprisoned alims (religious leaders) citing that the protests were not against the government, but against anti-Islamic forces. 
Read More: This old photo falsely shared claiming attack on Hindu community in Narail
Fact Check/Verification
In order to check the veracity of the video, Newschecker began by splitting the video into several keyframes. We then conducted a reverse image search on the keyframes, which led us to a video uploaded on YouTube by one Nazmul Hasan Chowdhury on 27 March 2021, titled "Massive protest march and rally, islami Andolan". The frame of the video exactly matched the viral video proving that it is not recent but from last year.
Newschecker further conducted a keyword search on Google with the words "কারাবন্দী আলেম" ' and found several reports published in Bangla news outlets that revealed that the protest march took place last year in wake of the widespread agitation against the Indian Prime Minister's visit to Bangladesh. The reports published in Kaler Kantho and Jugantar can be read here.
Conclusion
A video of a protest against Indian PM's Bangladesh visit in 2021 was broadcasted live on Facebook, claiming to show a recent protest demanding the release of imprisoned alims.
Result – False
---
If you would like us to fact check a claim, give feedback or lodge a complaint, email us at checkthis@newschecker.in. You can also visit the Contact Us page and fill the form.