On July 16 (Friday) temples, houses and shops were vandalised as well as some houses set on fire in the evening at Lohagara, Narail, based on a Facebook post by a person named Akash Saha. Akash Saha has been arrested by the police for allegedly over a Facebook post that hurt religious sentiments. He was arrested from Khulna at around two o'clock in the morning on July 17 (Saturday).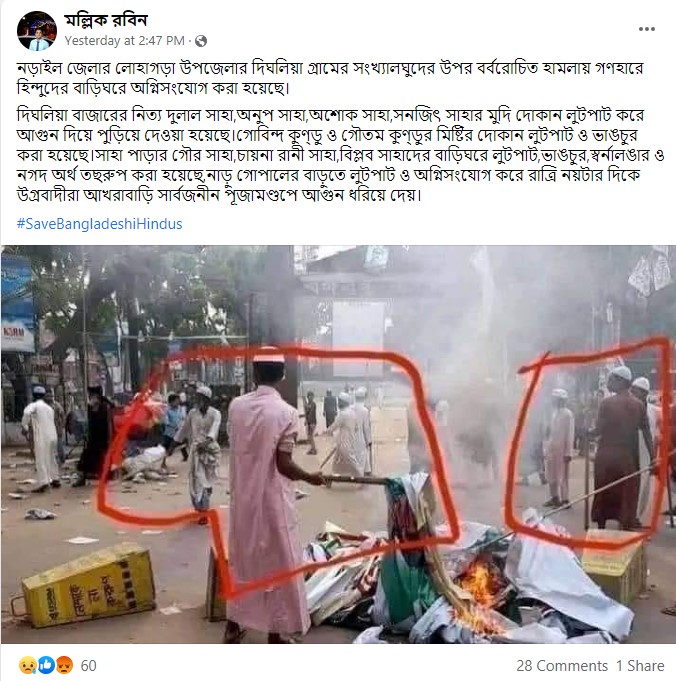 While the young boy who shared the post on Facebook has been arrested, members of the mob that participated in the vandalism have not yet been identified. Local police have said that legal action will be taken against the attackers, adding that none of them has yet been identified for arrest.
Amid the tensions in Lohagara, Narail, and reports of families locking up and leaving the town, a photograph is viral on social media claiming to show the vandalism that took place on July 16.
Some social media posts with similar claims can be found in these links: here, here, and here.
Fact Check/ Verification
We conducted reverse image searches and the same image was found in a report published in Rising BD on 26th March 2021, titled "Madrasa students rampage in Brahmanbaria.".
According to the report that on the occasion of the golden jubilee of Bangladesh's independence and Mujib's birth centenary in 2021, Indian Prime Minister Narendra Modi visited Bangladesh. Activists of Hefazat Islam opposed the visit of the Indian Prime Minister to Bangladesh. Following that Madrasa students from Brahmanbaria vandalized the street in a clash between the police and the students.
Conclusion
The images of the Brahmanbaria madrasa students' protest against the visit of Indian Prime Minister Narendra Modi to Bangladesh in 2021 that led to a clash with police are being circulated with the false claim that this image represents the recent attacks on the Hindu community in Narail.
Result: Partly False
---
Write to us at checkthis@newschecker.in for your feedback on any suspicious news or information or to find out the truth . You can also contact us through Contact Us – Form.