A viral social media content on Tiktok has claimed that the Starlink satellite train was seen in the sky of Kushtia in Bangladesh.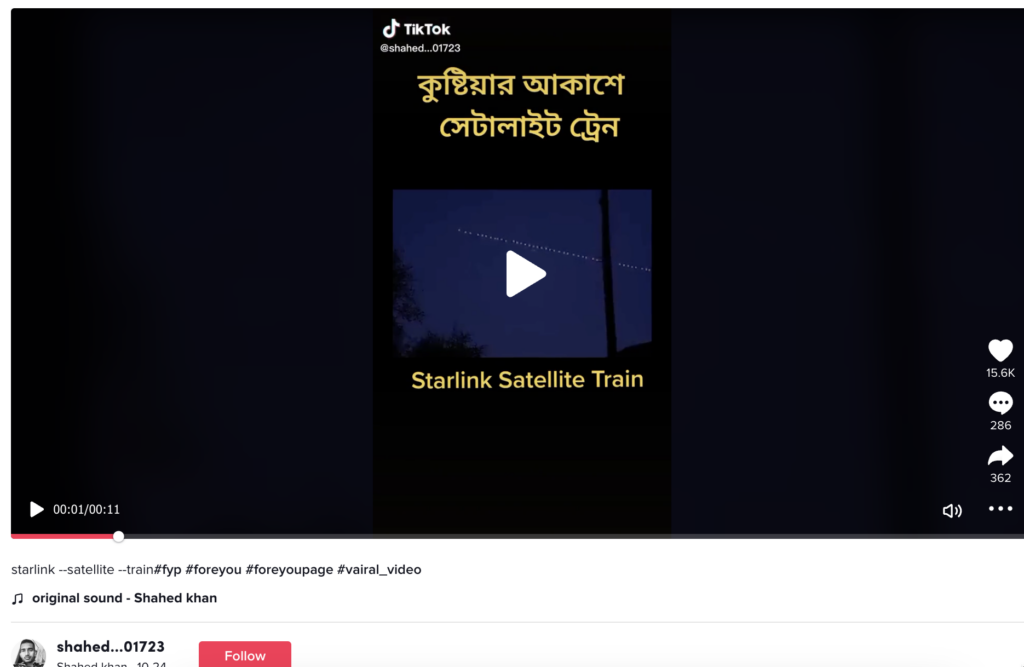 The video has 15 thousand likes and 3 lakh 23 thousand views.
Newschecker found the claim is false. 
The Starlink Satellite Train
Starlink is an artificial satellite Internet service provider for rural and remote areas by SpaceX to provide satellite Internet access. Since 2019, around 2300 satellites have been launched to provide broadband coverage for high-speed internet access. 
Read More: No, This Photo Does Not Show Former Iraqi President Saddam Hussein's Grandson
Fact Check/ Verification
With the key-frame reverse image search of the video, we found a Youtube video titled "Starlink Satellites train seen in the sky | view from earth | Elon Musk SpaceX" published on  April 30, 2020. The video is uploaded on a Youtube channel named Viral Video Lab. 
Besides, The Viral Video YouTube channel has multiple videos of Starlink satellite trains at various times. See here, here, and here.
Conclusion
An old video of a Starlink satellite train was recently shared on Tiktok claiming to have seen a Starlink satellite train in the sky of Kushtia in Bangladesh.
Result: False
---
If you would like us to fact-check a claim, give feedback, or lodge a complaint, email us at checkthis@newschecker.in. You can also visit the Contact Us page and fill out the form.