Moroccans and social media users across the Arab world were overtaken by grief on Saturday, after Ryan Awram, a five year old who was stuck in a 104-feet deep well in Northern Morocco, died after five days of rescue efforts. The incident triggered an outpouring of  sorrow and heartache, with many taking to social media to pray and pay tribute to the five year old. But several users shared a picture of a child lying in a hospital bed, identifying the child as Ryan. Newschecker has verified that this picture of a child lying in the hospital bed is not Ryan, and the post is thus misleading.
Several users shared the viral image, and a post by one of them, Faisal Abedin Chowdhury, uploaded on February 6, has 5.1K reactions and 106 shares. 
Others also posted similar claims on Twitter and Facebook.
Fact Check / Verification
To verify the authenticity of the image, Newschecker conducted a reverse image search and traced the photo to an article published by North Carolina state-based news outlet 'WFMY News 2' on January 21 with the title "Mom says son, 6, told her he had to be strong after wrong-way crash on I-40".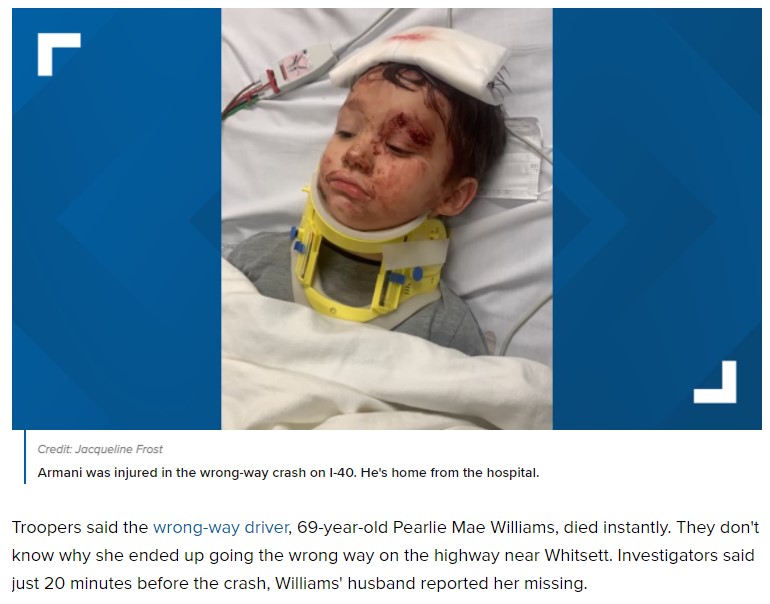 The article reads that 6-year-old Armani Gonzalez, the child seen in the picture and father Jose Gonzalez, along with grandmother Olivia Gonzalez were injured in an accident on the I-40 Highway in the US state of North Carolina on January 21. Armani is home from the hospital but his father and grandmother are still in serious condition.
Read More: Viral Image Of Bangabandhu Tunnel Is Edited
On further research, we also found the same image posted on WFMY News 2's Facebook page on January 22.
Conclusion
A photo of a child injured in a road accident in the United States last January has gone viral on Facebook, claiming to be a picture of 5-year old Ryan, who died after falling into a well in Morocco.
Result – Misleading
Our Sources
WFMY News 2: https://www.wfmynews2.com/article/news/local/wrong-way-crash-i-40-boy-injured-home-from-hospital/83-72dc9512-ef9b-460f-bdeb-e4cf0421a6eb
https://www.facebook.com/WFMYNews2/posts/10160429217728755
BBC Bangla: https://www.bbc.com/bengali/news-60276775
---
If you would like us to fact check a claim, give feedback or lodge a complaint, email us at checkthis@newschecker.in. You can also visit the Contact Us page and fill the form.