A video is going viral on video sharing platform Titok claiming that a missing college student, Yasha Mridha Sukanya, was raped while she was taking her exam. Newschecker has verified this claim to be false.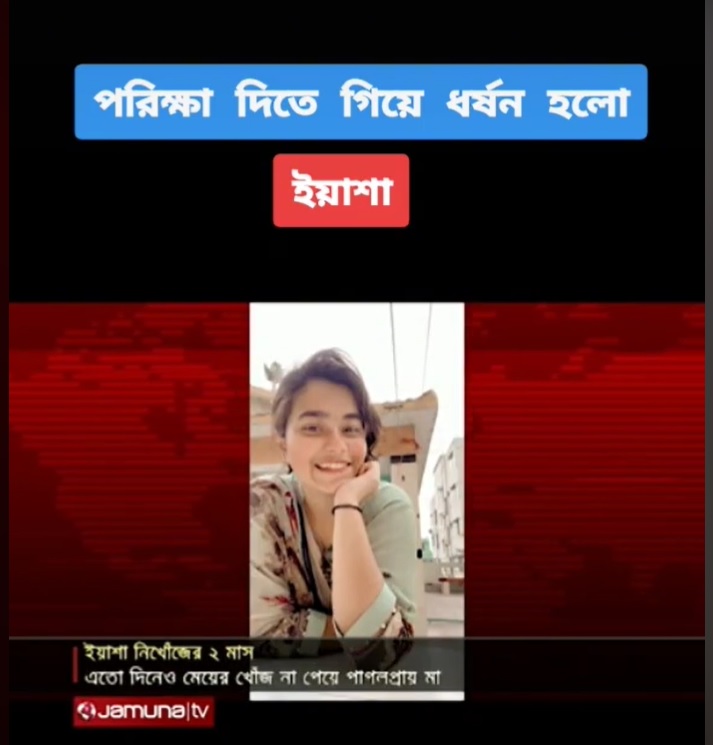 Who Is Yasha Sukanya?
Yasha Sukanya, a 2nd-year student of the Siddheshwari College, was accompanied by her mother Najma Islam on 23rd June 2022 for her examination. Najma, who was waiting with other guardians in the parent's room while her daughter took the examination, last saw Sukanya at 12 noon. At 3 o'clock, all the candidates but Sukanya returned. Najma soon reported the matter to the college teachers, and later to the Ramna police. Sukanya's friend Ishtiaq Ahmed Chishti was made the sole accused in the case and was arrested by the Ramna police. Though nothing came out of the interrogation, Ishtiaq is in jail. The case soon made it to the media and became a talking point on national media and social media platforms.
Fact Check/ Verification
On closely observing the TikTok video, we see the watermark of a channel called Jamuna News on the bottom left corner of the video. On looking up the keywords "Yasha missing for 2 months" on the Youtube channel of Jamuna News, we found a news segment titled "Yasha missing after roaming around with lover, mom wants her back" which aired on August 21, 2022. The visuals seen in the news segment match the visuals seen in the viral video. The news segment reported that Sukanya, who was allegedly missing, had eloped with her lover and was refusing to return home.
We further conducted a Google search on the keywords 'missing college girl Sukanya', and found an interview given by Sukanya to Channel 24 aired on the 23rd August.
Speaking in the interview, Sukanya accused her mother of torture and claimed that she attempted to sell her for three and a half lakh taka. She further said that years of physical and mental torture had left her feeling insecure, and prompted her to leave home. Sukanya revealed that she skipped the test, and left with her friend without being seen by her mother, but made no mention of being raped. She is currently lodged at the Victim Support Centre.
Read More: This old photo falsely shared claiming attack on Hindu community in Narail
Conclusion
Missing college student Yasha Mridha Sukanya was not raped while taking the exam. The claim is false.
Result: False
---
If you would like us to fact-check a claim, give feedback, or lodge a complaint, email us at checkthis@newschecker.in. You can also visit the Contact Us page and fill out the form.