Recently, a Tiktok video clip has claimed that there will be 3 Eids in 2030. The video further claims that Ramadan will be observed in January and December.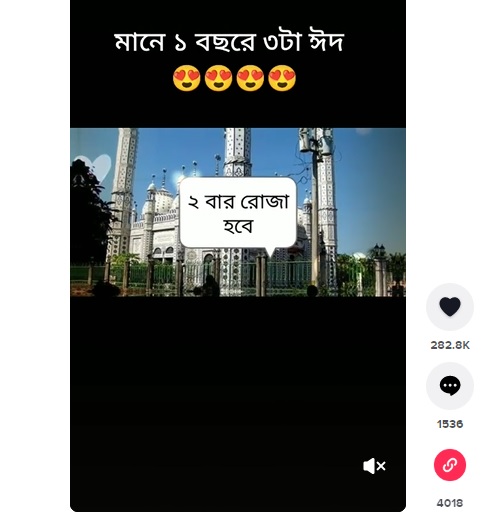 The claim also went viral on social media. See posts on Facebook with the same claim here, here and here.
Newschecker has verified that this claim is incorrect.
Fact Check / Verification
Through keyword search, we found a news report published in Dhaka Post's Religion Desk referring to a blog post titled "There Will Be Two Ramadans in 2030" by The Islamic Information.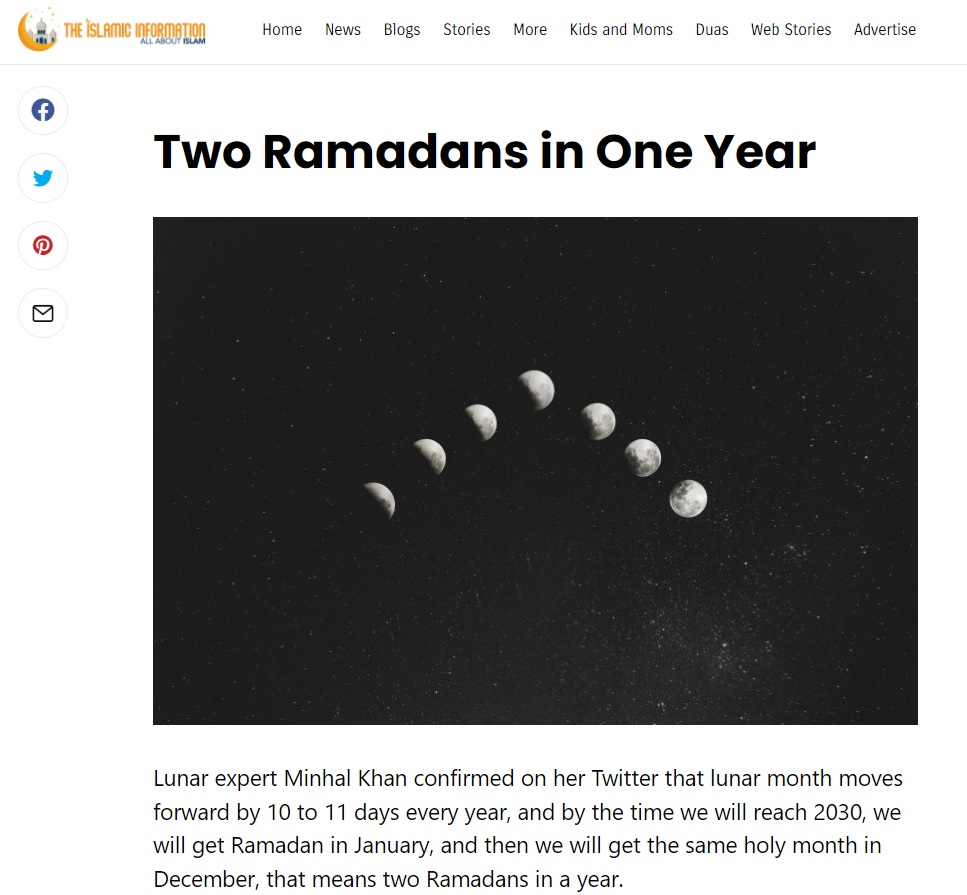 On verifying the information with an Islamic calendar, the claim of two months of Ramadan in 2030 has been found to be true. According to the Islamic calendar, 1451AH comes in 2030, according to which, the month of Ramadan will start from the 5th of January 2030. And after 30 days, based on the sighting of the moon on 3rd February, 4th February will be celebrated as Eid-ul-Fitr which is one of the main religious celebrations by Muslims worldwide.

The second Eid is Eid-ul-Azha. This Eid will be celebrated on 13th April 2030. These two Eids are celebrated according to the Islamic calendar of Muslims.
Again, the month of Ramadan in the new Arabic year 1452 AH will start from December 26 of the same year. Until December 31, there will be 6 days of Ramadan and Muslims will fast for six days. After 30 days of fasting, Eid-ul-Fitr will be celebrated on the 24th of January, 2031.
Although there are two months of Ramadan in 2030, there is no possibility of celebrating 3 Eids. The year 2030 will only see 2 Eids.
Conclusion
Although the truth of the two months of Ramadan has been found in 2030, the claim about the observance of the three Eids is not correct. Therefore, in 2030, there won't be 3 Eids, but 2 Eids to celebrate in 2030.
Result – Partly False
Our Sources:
Tiktok: https://www.tiktok.com/@roy___/video/7043433385301200155
Dhaka Post: https://www.dhakapost.com/religion/24028
Facebook:
আল মানাহিল -Al Manahil Foundation: https://www.facebook.com/1538538993053540/posts/3174303569477066
News Update: https://www.facebook.com/101355805108851/posts/239026068008490
The Daily Campus: https://www.facebook.com/871371459733565/posts/1692163650987671
Global Islamic Calendar:
2030 – https://www.al-habib.info/islamic-calendar/global/global-islamic-calendar-year-2030-ce.htm
2031 – https://www.al-habib.info/islamic-calendar/global/global-islamic-calendar-year-2031-ce.htm
The Islamic Foundation: https://theislamicinformation.com/blogs/two-ramadans-in-2030/
---
If you would like us to fact check a claim, give feedback or lodge a complaint, email us at checkthis@newschecker.in. You can also visit the Contact Us page and fill the form.