A video is going viral on Tik Tok claiming that Lake Natron, a lake in Africa's Tanzania, has so much salt content that it turns everything in contact with it into stone, making it one of the deadliest places on earth.
The video titled "Deadly Places on Earth That You Cannot Visit," was uploaded on January 19 this year, and has already been liked 3,64,000 times.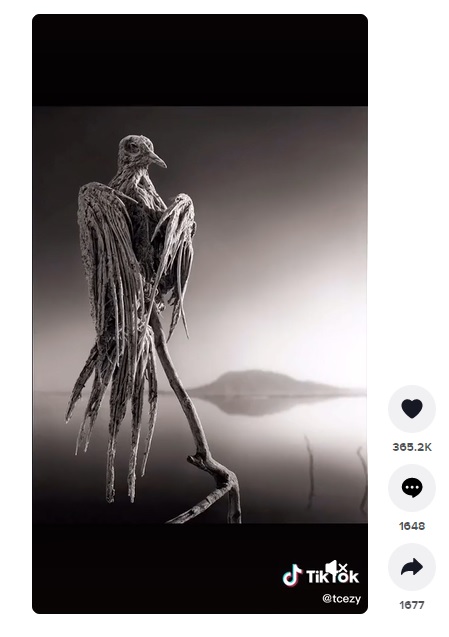 The Tiktok video shows several photographs and animated videos, to support its claim. The animated sequence shows a bird immediately being turned into stone right after it dives into the lake. Other photographs used in the video included the image of a bird perched on a branch, allegedly transfixed in the exact position it was in before it died. 
Newschecker verified that this claim is misleading and factually inaccurate.
Fact Check / Verification
A key-frame search of the video revealed that the photographs used in the video were taken by British photographer Nick Brandt. The photo series is a part of a trilogy titled Across the Revised Land by Nick Brand in 2013, which documented the natural world and animals of East Africa.
According to a report in LiveScience, Nick Brandt, for the sake of photographing the eerie lake, picked up dead animals from the lake bank and subsequently arranged them in a specific manner." Reanimated, alive again in death," read one of the captions to Brandt's image.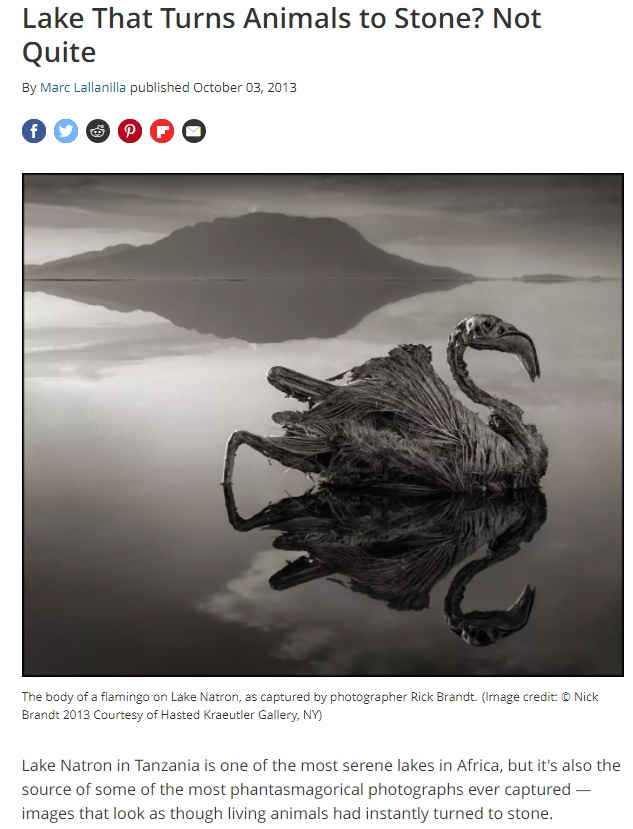 "No one knows for certain exactly how they died, but … the water has an extremely high soda and salt content, so high that it would strip the ink off my Kodak film boxes within a few seconds," the LiveScience report quoted Brandt as having written in his book about the level of minerals in the Lake Natron.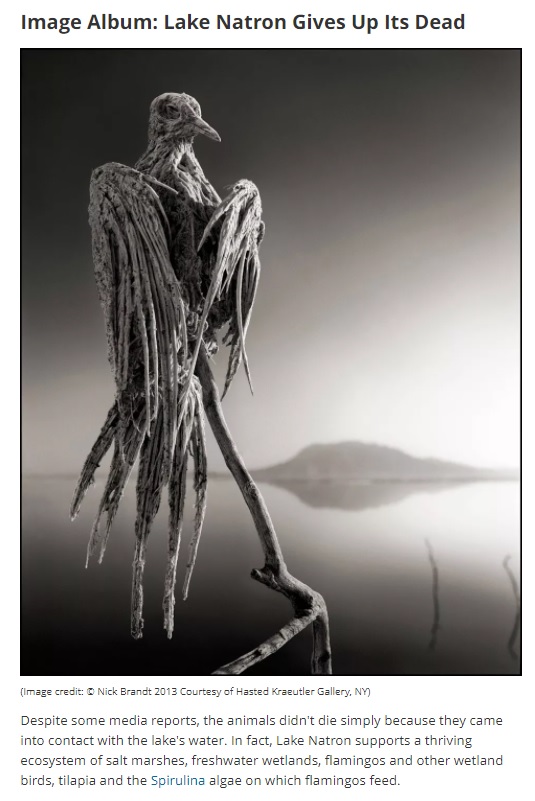 The water in the lake (hyperlink the source to this info) has a pH of 10.5 and is so flammable that it can burn the skin and eyes of animals. The alkalinity of the water comes from sodium carbonate and other minerals that flow into the lake from the surrounding mountains. Sodium carbonate was once used in Egyptian mummification. That is to say, the water of Lake Natron acts as a preservative for the animals that die in Lake Natron.
In fact, Lake Natron's alkaline salinity preserves a rich ecosystem of wetlands, freshwater wetlands, and other wetland birds, flamingos, Tilapia, and algae. Also, large flocks of flamingos nest in this lake for food (hyperlink source).
There are also arrangements to visit Lake Natron. Anyone can visit the lake by availing of different travel packages proving that the place is not deadly to humans and the lake is open to the public.
Conclusion
Lake Natron does not turn living creatures to stone. Photographer Nick Brandt arranged the dead animals that he found by the side of the lake, and placed them in a specific manner to photograph them. The lake is also open to the public and is not restricted.
Result – Factually Inaccurate
Sources: 
Tiktok: https://www.tiktok.com/@tcezy/video/7054862846626237698
Nick Brandt Official Website: https://www.nickbrandt.com/on-this-earth-trilogy/across-the-ravaged-land-(2010-2012)/
Live Science: https://www.livescience.com/40135-photographer-rick-brandt-lake-natron.html
https://www.livescience.com/40134-image-album-late-natron-gives-up-her-dead.html
Safari Bookings: https://www.safaribookings.com/tours/natron
Travel Book: https://www.travelbook.de/orte/gefaehrliche-orte/lake-natron-in-afrika
Youtube: https://www.youtube.com/watch?v=Ut82bMaHwiM
---
If you would like us to fact check a claim, give feedback or lodge a complaint, email us at checkthis@newschecker.in. You can also visit the Contact Us page and fill the form.